2011 Illustrators' Day
Friday, September 2nd, 2011 from 10:00 am to 3:00 pm
DeKalb County Public Library (Decatur), lower floor



Illustrators' Day is for beginning to professional children's book illustrators who are interested in putting together or improving their portfolio, learning how best to promote themselves to publishers, hear from established illustrators, and participate in assignments which will get your creative juices flowing!
Registration is now open. (You do not have to be a member of SCBWI to participate, although it's cheaper if your are.) We're thrilled to have an incredible line-up of speakers and mentors this year...


Kristen Nobles, Art Director for Candlewick Press, will be our keynote...
Thinking Visually: The Illustrator as Illuminator
The origin of the word illustrate includes wonderful synonyms such as
illuminate, make clear, give glory. What great phrases to explain the
illustrator's role in children's books! As an art director, I work with
illustrators to shed light on emotion, clarify story, and ultimately deliver
glorious images. I'll exemplify the elements of excellent book illustration
including (but not limited to) pacing, character, and style; and share
Candlewick's process of pairing an illustrator to a text. We'll conclude
with a short sketching exercise to get you thinking visually out-of-the-box.
(Please bring a letter size piece of paper and a pencil or pen.)


Robert Agis, Editor from Sterling Children's Books.


Mike Lowery will be our working illustrator this year.
Self Promotion and Sketchbooks
A little talk about getting started and working as a children's book illustrator.
Along with being a Professor of Illustration at SCAD, he has several children's books under his belt. His latest is THE GINGERBREAD MAN LOOSE IN THE SCHOOL (GP Putnam and Sons), written by...


Laura Murray, author of THE GINGERBREAD MAN LOOSE IN THE SCHOOL will join us for a panel discussion of how an illustrator and author work together on a picture book (or don't), deal with expectations, and generally connect.

Mentorship: Illustrator Michael Austiin will mentor 12 illustrators (first come, first serve) with an assigned project before the workshop. Michael illustrated many classic children's books such as MARTINA THE BEAUTIFUL COCKROACH (by Carmen Deedy, Peachtree). With Michael's one-on-one consultation throughout the process, your goal will be to create a finished piece ready to show on Illustrators' Day during the Portfolio Reviews.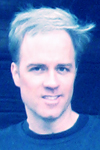 Portfolio Reviews: Participants will display their work and receive feedback from this illustrious faculty in a public overview manner (timed - no more than 5 minutes). The experience of seeing how other illustrators present their work, what is successful and what isn't, and how an Art Director can quickly determine what might work for them is an experience I wish had been around when I was starting out. Plan to learn tons and we look forward to seeing you!

SCHEDULE:
The event is scheduled from 10:00 am to 3:30 pm in this order:
10:00 - 10:40 - Mike Lowery
10:40 - 11:00 - Panel discussion with Mike Lowery and Laura Murray
11:15 - 12:15 - Thinking Visually with Kristen Nobles
12:15 - 1:15 - Lunch Break
Please be sure to mark if you'd like lunch!! (optional/extra cost)
1:15 - 2:15 Talk with Robert Agis
2:30 - 3:30 Portfolio Overview
I fully expect us to run overtime (we usually do)!
Hope you can join us for what promises to be a fun and educational get-together!
Elizabeth O. Dulemba (a.k.a. "e")
SCBWI Southern Breeze Illustration Coordinator Where: DeKalb County Public Library, lower floor
215 Sycamore Street
Decatur, GA 30030-3413
(404) 370-8450

When: Friday, September 2nd, 10:00 am - 3:00 pm (usually runs over)

Cost: $45 per person for SCBWI members, $50 for SCAD or AIA students, and $65 for non-members

Lunch: Lunch boxes will be available at an additional cost from Badda Bing catering. Please check off your preferences on the registration page (coming soon). You may also opt to bring your own.

SignUp Deadline: Friday, August 26th!!

How: Email me at elizabeth at dulemba dot com and let me know you would like to attend. Once your check arrives, you will be emailed your 'homework' assignment.

Hope you can join us for what promises to be an educational and fun get-together!
Thanks so much,
e
Elizabeth O. Dulemba:
http://dulemba.com
elizabeth at dulemba dot com
SCBWI Southern Breeze Illustration Coordinator
http://www.southern-breeze.org/
SCBWI



CLICK HERE TO REGISTER NOW



Click here to see the 2010 Illustrators' Day Wrap-Up
Click here to see the 2009 Portfolio Workshop Wrap-up
Click here to see the 2008 Portfolio Workshop Wrap-up