In honor of our dear friend, the Southern Breeze chapter of the Society of Children's Book Writers and Illustrators has established a Conference Tuition / Portfolio Critique Scholarship Fund (a $230 value). The scholarship will be awarded to one budding illustrator in the children's book field per conference. That's twice a year for either our Springmingle Annual Conference in Atlanta (February), or WIK (Writing and Illustrating for Kids) in Birmingham (October). This scholarship is open to Southern Breeze SCBWI members only and would be an impressive honor to add to one's resume. If you would like to apply for the scholarship please download the following form (click the image) and mail your submission to:

Southern Breeze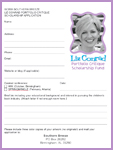 PO Box 26282
Birmingham, AL 35260

To learn more about Liz visit:
Liz's Website
Liz's page at the Neis Group
Liz's page at ChildrensIllustrators.com
In Memoriam: Liz Conrad
Liz Conrad Memorial Page

If you would like to make a donation to the Liz Conrad Portfolio Critique Scholarship Fund, please mail it to the above address.