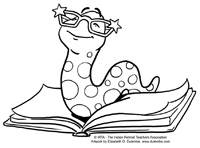 Advertise at dulemba.com!
Coloring Page Tuedays is popular with teachers, librarians, booksellers, children's hospitals, children's book fans, card makers,
scrap bookers, and, of course, parents. I welcome the opportunity to connect them to you!



Basic Stats:


over 2,500 subscribers to the weekly newsletter
over 600 subscribers to the daily RSS blog feed
over 2,300 likes and followers on Facebook (blog feed drops into fb)
over 2,000 followers on twitter (fb feed drops into twitter)
Press coverage in the Atlanta Journal-Constitution
Coloring Page Tuesdays widget installed on over 200 websites, garnering
over 10 million impressions to date



Platform:
• New coloring page images posted every Tuesday on dulemba.com blog
• Entire collection of over 200 images at Coloring Page Tuesdays
• Weekly Coloring Page Tuesday e-newsletter to over 2,500 subscribers
• Gallery for card makers to share their work
• Twitter alerts each week to nearly 2,000 followers announcing new coloring pages



Advertising Options:
• Banner Ads (like below) on Coloring Page Tuesday collection page.
• Box or banner ad on individual Coloring Page Tuesday posts
• Banner or sidebar ad on weekly Coloring Page Tuesday newsletter (click here to view a typical newsletter)
• Your ads will be tracked via bit.ly and results made available to you.
• Payments can be made via Paypal.