About "e"


When I created my "Little Dude" during the clay pinch pot activity in kindergarten (back then they were called ashtrays), the adults in my life quickly placed me in art lessons. The writing showed up a bit later.
I have always loved picture books. Growing up, I stared at my favorite for hours at a time wishing I could visit the magical worlds on its pages. Through drawing, I found a door and was seldom seen without a drawing pad tucked under my arm. When I drew, I lived in the stories that filled my head. Eventually, I put them to paper as well.
Those stories, drawn, written, and told, wove through my life as a unifying thread. I discovered the National Storytelling Festival in Jonesborough, Tennessee while in college, and created a line of storytelling posters for my graphic design exit show at the University of Georgia.
During my graphic design career, I was often Art Director, but always in-house illustrator, creating art mostly for child-related industries such as Buster Brown Apparel (I drew Charlie Brown and Snoopy for many years), Brach's candy, even the Stone Mountain Laser Show.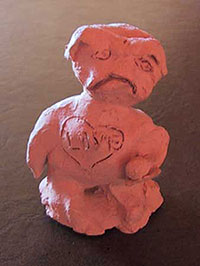 Some of my favorite activities have included hang-gliding and rock-climbing (I was an adrenalin junkie in my 20's - hubbie still is), filling in as storyteller at my local library, and teaching "Beginning Drawing" and "Creating Picture Books" at the John C. Campbell Folk School and other venues. I was Illustrator Coordinator for the Southern Breeze region (AL, GA, FL panhandle) of the SCBWI - the Society of Children's Book Writers and Illustrators for over six years (for which I established an annual Illustrators' Day, gallery shows and sketch book events), was a Board Member of the Georgia Center for the Book for five years (for which I helped establish the inaugural "25 Books All Young Georgians Should Read" list), and I taught beginning and advanced illustration at the University of Georgia.
Currently , I am Visiting Associate Professor of the Picture Book Design class at Hollins University (Roanoke, Virginia) in both the Certificate in Children's Book Illustration and MFA in Writing and Illustrating Children's Books summer programs. During the rest of the year I am pursuing an MFA in Illustration at the University of Edinburgh in Scotland. You can read more about that adventure by clicking here.
I enjoy sharing what I've learned about the children's publishing industry, freelance illustration, and the evolution of storytelling at conferences and schools. And I especially love speaking at book festivals where I'm surrounded by fellow creators and book lovers!
My graphic design background gave me an intimate knowledge of the publishing process and enough web savvy to create my own web site. In fact, I embrace all things technological and create my illustrations digitally. I even created one of the first picture book apps available for the iPhone way back in 2009, LULA'S BREW (downloaded over 10,000 times). Publishing clients include Free Spirit, Highlights, HMH, MacAdam/Cage, McGraw-Hill, Oxford, Raven Tree, SCBWI, Scholastic, Shen's, Sterling, Zondervan, etc.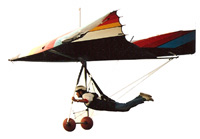 It seems everything I've ever done has somehow contributed to the skills I employ now as a children's book writer and illustrator - even the hang-gliding. Because sometimes this business can feel just as crazy as jumping off a cliff with a kite tied to your back.
(Yes, that's me jumping off Lookout Mountain in Tennessee.)

To download promotional material, copy usable bios for your event, and learn how to pronounce my name go to my MEDIA PAGE.
Odd facts and other projects:
Tag - I'm it!
6 weird things about me
Odd Things I've Made
Lose Something? Acts of Kindness in Edinburgh
All Artwork © Elizabeth O. Dulemba - Y'all play nice, Okay?