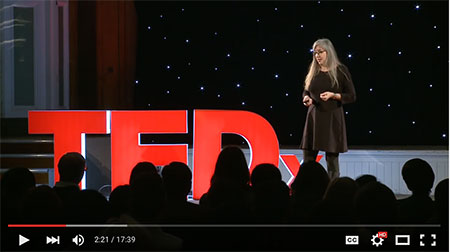 TEDx Talk
18 February 2016
CLICK HERE or the image above to watch on YouTube and leave a comment for...

Is Your Stuff Stopping You?
Award-winning author, illustrator, teacher and student Elizabeth Dulemba recently sold or gave away nearly everything she owned. And yet, she's no minimalist. She'll walk you through how she did it, and share how you too can open yourself to opportunities by evaluating your stuff – debunking the illusion of value we place on material possessions. Why do this? To answer the question "Is your stuff stopping you?"

PRESS COVERAGE:
Link on TED site: Theme: Connecting the Dots
Student Newspaper: TEDx Conference 2016: Speaker Profiles
Grow Your Potential: 12 TEDx Talks: 12 Lessons in Public Speaking
CLICK HERE for my write up of the day and read about the amazing speakers and volunteers.
Have a gander at the EUTV's wrap-up of the day - click the image to watch on Youtube: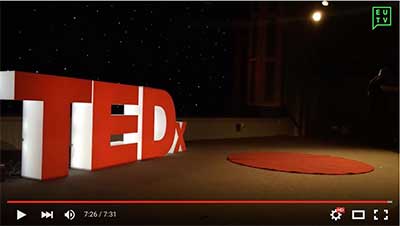 LOVELY FEEDBACK
We thought we had shed excess stuff when we moved. But after watching your TED talk, I realized we had a basement full of raided and even unopened boxes left from our move. I am now in the process of selling (found a friend with a thriving ebay biz and offered to do a 50/50 split with her), giving away or discarding everything I don't LOVE or actively need. (My closet is not overflowing anymore either.) In just a few days this has already changed my outlook and my husband and I are already talking about freedom rather than things.
- Nancy from Oregon

PREPARATION
As part of the preparation for the day, I was given a one-hour-long training session with a professional speaking coach. WOWSA! I've been speaking publicly in front of all sizes/ages of crowds for over a decade, but I learned so much from Mel Sherwood of Grow-Your-Potential.com! I happily gave her a video testimonial when we were finished. Click the image to have a watch on Youtube.



For information on inviting Elizabeth to speak at your event, please click here.


All Artwork © Elizabeth O. Dulemba - Y'all play nice, Okay?