Public and School Speaking Engagements
Elizabeth has spoken at over 100 schools, conferences and events (including her TEDx Talk with over 1 million views), and covers several topics depending on audience and venue. She is based in South Carolina where she teaches full time at Winthrop University. As such, she is currently available primarily on weekends. Click here to see "e" in action.

TOPICS FOR CHILDREN:
School Visits and Festivals
Virtual Visits

TOPICS for ADULTS:
How to Direct the Viewer's Eye
How to Focus Your Reader's Attention
Online Promotion for Authors and Illustrators
Technology and the Future of Reading
Creating Picture Books (Nuts & Bolts)
Picture Book Dummies (for Writers and Illustrators)
Two for One: The Unique Challenges of Illustrator as Writer
Finding Your Passion, Defining Your Style
Beginning Drawing
Panel Discussion

MORE:
Testimonials
Pricing (please email for pricing)


Looking for funding
Other available speakers
Interviews (new page)
Past Speaking Engagements (new page)
Current Calendar (new page)

Tips for a Great Visit:
Ten Tips for a Perfect Author Visit (by Michael Shoulders at Nerdy Book Club)

School Visits and Festival Engagements (ages 4 to adult, 20-45 minutes + Q&A)
Adapted for specific age groups, Elizabeth will read one of her latest books, do a demonstration drawing, talk about the evolution of stories, share sneak peeks behind the scenes of her latest projects, and describe her method for creating picture books via online slideshow. She'll also share funny tales and encourage everybody to chase their own dreams with determination.
(wifi access required if inside, with laptop hookup and projector, giveaways included)



Virtual Visits - 10 minutes to 1 hour
Don't have the funds for an in-person visit? e is now offering Virtual Visits using Skype. Make technology work for you and your students in an exciting new way! Shorter visits are a quick 'hi' with some Q&A. Longer visits share much of the same information as an in-person visit, with a bit of a twist.
(Read about a virtual visit - click here.)
(laptop with internet, camera, speakers, and a projector, Skype account)
[top]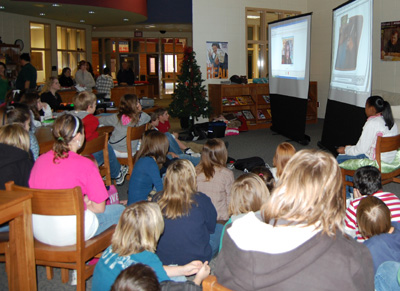 Online Promotion for Authors and Illustrators - 45 minutes + Q&A
For the published or pre-published, Elizabeth will talk about various methods of self-promotion to create a personal platform. Use social media, short-cuts and work arounds to make technology work for you.
(wifi access required, with laptop hookup and projector)
[top]

Technology and the Future of Reading - 45 minutes + Q&A
Confused by the world of eBooks and Apps? Elizabeth will discuss the brief history of these new technologies, the revolution of tech in the current publishing market, and how eBooks and Apps fit into the future of reading.
(wifi access required, with laptop hookup and projector)
[top]

Creating Picture Books (the Nuts and Bolts) - 45 minutes + Q&A, weekend
Elizabeth will relate the journey of writing and illustrating picture books, from revisions to dummies and submissions to slush piles. She'll share the standard structure of picture books and useful resources. For illustrators, she'll focus on self-promotion and what happens once hired. For writers, she concentrates on the basics of how writing picture books is different from other types of writing and help hone craft. Elizabeth will share the challenges of breaking into the industry and how best to succeed.
(This workshop is also offered as a weekend-long course at the John C. Campbell Folk School. Click here to read about a class.)
(includes handouts)
[top]

Picture Book Dummies (for both writers and illustrators) - 45 minutes + Q&A
Discover the options for creating picture book dummies both for submission or (for writers) to help make your work shine.
(includes handouts)
[top]

Two for One: The Unique Challenges of Illustrator as Writer - 45 minutes + Q&A
Lucky is the person who can do both, however it comes with issues. Often times one or the other is weaker and can hinder chances at publication. Elizabeth will discuss how to overcome these challenges and strengthen both your talents.
[top]

Finding Your Passion, Defining Your Style - 45 minutes + Q&A
This is an inspirational talk about finding the unifying thread in one's life, looking for common denominators that can help shape future decisions, but also help define one's writing or illustration style.
[top]

Beginning Drawing - weekend
Elizabeth will cover basic drawing techniques including line, shade, and composition. Students will explore value, contrast, composition, dimension and perspective through simple shapes and then move on to the tricks of still life.
[top]

Panel Discussions - 45 minutes
Elizabeth has been on many panel discussions and loves answering questions on the fly - especially while in the company of friends and colleagues.
[top]

VIDEOS
See e in action... Video runs about 4.5 minutes.

Permalink: https://youtu.be/QwpC9x0odNE


[top]

Schedule
If you would like to schedule a visit, please email for detailed information and pricing


Want to learn more about putting together a successful author/illustrator visit? Read:
The ABC's of a Successful Author/Illustrator Visit at the SCBWI website or
visit the ALSC's (Association for Library Service to Children) website.
Note! If you are a bookseller and you are able to arrange paid visits (and handle book sales) for e in your area, she will happily pay 10% of her fee to you as booking agent!
[top]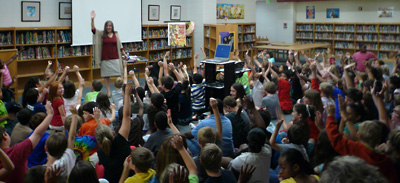 Looking for funding?
Consider teaming up with a nearby school to split costs, hosting a fund-raiser through your PTA,
or applying for a grant:
[top]

Can't get enough? Find other authors who do School Visits...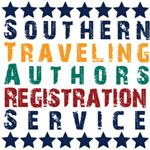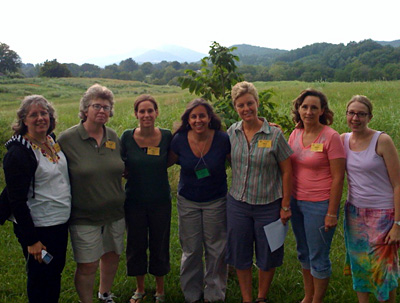 I learned an enormous amount in a short time. It changed how I look at writing. Probably the best course I've ever taken."
- Creating Picture Book Student, John C. Campbell Folk School, December 2014
Everyone enjoyed your visit! I've received many positive comments from teachers, students, and parents! One parent told me her kids were drawing a lot of cows - she loved it! Thanks for the beautiful pictures - I'm going to frame them and hang them in the library. I really liked the evolution of storytelling activity!
- Jill Hanson, Library Media Specialist, Atlanta Neighborhood Charter School
Your visit to Cleveland Road was a big hit. The read alouds got everyone involved and I love the way you let students help create an illustration. The emphasis on the history of storytelling and a look at how you create at home was very informative. Thank you for making Read Across America Day a huge success at Cleveland Road."
— Gwen Bailey, Media Specialist, Cleveland Road Elementary School
"The kids talked about your "visit" all day and were really amazed! The teachers wouldn't stop bragging either! Even our principal joined us! Thank you so much for your well organized slides and your excitement!"
Feedback on a Virtual School Visit — Meredith Lowe, Art Education Teacher, Austin Middle School
"Thank you twice for the wonderful program on Wednesday last. You were so amazing and with such an oddly matched group. We had several compliments from folks later in the evening. I'm always just blown away by how easy you make drawing look. Thank you for the wonderful picture of Rosebud. She is just beautiful and the Friends of the Decatur Library will be getting her framed for display in the Children's Room."
— Patricia Dollisch, Youth Services Manager, Decatur Library
"Thank you for inspiring our students! . . . Our budding artists and authors will thrive as a result of you sharing your time and talents with them."
— Principal Bernetta Jones-Jordan, Avondale Middle School, May 2006
"Your visit was quite well received and you did a very good job of communicating to your audience the nature of your work and interesting them in it. . . . Keep doing what you're doing!"
— Media Specialist Beverly Gaines, Avondale Middle School, May 2006
"Good reality, honesty with encouragement."
"Good candid and encouraging talk. Very good info, tips, etc."
"Great speaker. Knows her stuff."
­ Participants at the Blue Ridge Writer's Conference, March 2005
"Great instructor - so willing to share her expertise and go the extra mile."
"Elizabeth delivered an amazing amount of information in a very short time. She was upbeat and helpful the entire time."
"Instructor was really great . . . patient and willing to instruct each student in the way they needed."
­ Beginning Drawing Students, John C. Campbell Folk School, August 2005
"Thanks for coming in and doing the talk, Elizabeth. You are so generous with your knowledge about your market. I heard several unprovoked comments calling the talk very informative, showing both the good and bad of children's book illustration and well worth the time. You are welcome at SCAD anytime."
- Jay Montgomery, Instructor, Savvanah College of Art & Design, Atlanta Campus, January 2007
"Elizabeth is very positive and has an informal style that is perfect for a class of beginners. I've learned more than I ever thought possible for a weekend class."
"Elizabeth was thoroughly enjoyable and very knowledgeable. Explained and taught so very understandably."
"My first formal drawing education and I enjoyed it very much. Terrific instructor, very patient. Thank you, "e"!
- Beginning Drawing Students, John C. Campbell Folk School, May 2007
"Creating Children's Picture Books with Elizabeth O. Dulemba opened these naïve eyes to what it takes to write for children. This rich and potent weekend program was offered at the John C. Campbell Folk School. Being one of those ignorant and arrogant people who suffers from the delusion that it would be a piece of cake, it was a major awakening. It feels like opening the door on a vast, subterranean complex where nothing is as it appears on the surface. Those happy, funny, appealing pages that sing to me in the children's book section arrived there due to immense skill, endless determination and raw courage, not to mention amazing talent. These eyes now see them with the impressed and respectful gaze they deserve."
- Creating Picture Book Student, Kathy Stilwell, John C. Campbell Folk School, December 2009
"Elizabeth worked with us, each individually, to reach a goal we didn't even know we had set for ourselves. I moved from discouraged to inspired as the weekend progressed. Wonderful experience. I discovered abilities I did not know I had. I found determination I have not accessed in years. Thank you!"
- Creating Picture Books Student, Teri Davies, John C. Campbell Folk School, November 2012
"Elizabeth knows her stuff and can teach it, too! A bonus. Creative class loaded with insightful, concrete, specific, empowering information that will catapult us to new accomplishments, new levels of competence, self confidence and self-actualization! A joy!"
- Creating Picture Books Student, Lynda Myers, John C. Campbell Folk School, November 2012
"Fabulouos experience! Elizabeth is so knowledgeable and is good at conveying her thoughts. Very valuable information and experience!"
- Creating Picture Books Student, Christie Ragsdale, John C. Campbell Folk School, November 2012
[top]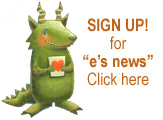 All Artwork © Elizabeth O. Dulemba - Y'all play nice, Okay?