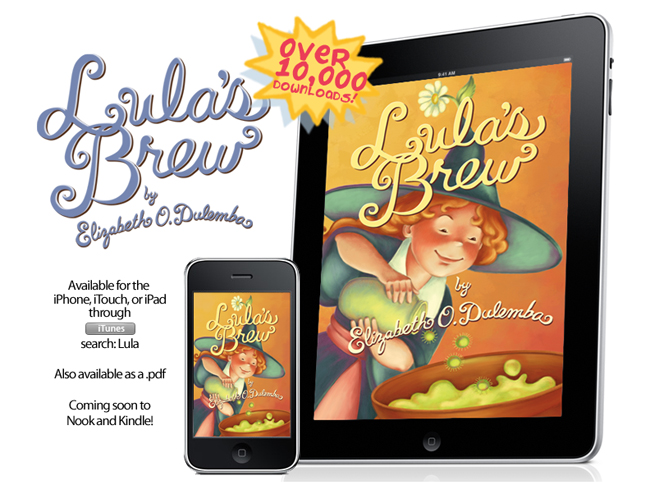 Lula's Aunties want her to be a witch like them. But Lula prefers to study cookbooks rather than spellbooks (and hates to fly on a broom). Lula wants to be a famous chef. In desperation, the Aunties insist she try to make one last potion. Lula secretly adds her cooking flair and in true witchy fashion creates a brew that bewitches the entire town, and her Aunties too!
This fun rhyming tale transcends the typical Halloween story to appeal to cooks and "foodies" throughout the year.
To help celebrate, here are the Stray Cats singing Be-Bop-A-Lula LIVE!




Feedback and Reviews:

The Examiner National
Review at romance reader's blog (name is P.G. but she has kids and writes about kid products she enjoys)
About.com: Fun Witchy Book for Your iPhone
PCWorld
AppAdvice
Book blips
AppStore HQ
Frequency
Nice shout-out at Fun Educational Apps: iPhone - iPod Touch and iPad

All parents need this app. - Groovin with the Grizas

Lula's Brew for the iPad... is a delightful read with wonderful narration by the author...
This is a rich, beautifully illustrated title that captures the magic of reading while offering a new way to share good books with kids.
Read more, all GOOD!, at Digital-Storytime

My daughters both loved this story about Lula and her wanting to be a chef. The rhyming words and the pace of the story are fun to zip right along. My favorite things about Lula's Brew is that I can put it on for my toddler and it can be read to her by the author and all she has to do is swipe her finger across when the words stop, something that she has gotten quite good at. I recommend checking out Lula's Brew on iTunes today it is a cute story and children really enjoy it. - The Dirty Shirt

It is an adorable story and actually quite long so it is definitely worth the $1.99. The narrator has a lovely voice and she even changes her voice when speaking for the different characters. My absolute favorite part though is the colorful illustrations. They are so vivid and really make the story all the better. Even though Halloween is just a few days away, I think the app. is perfect for anytime and it is too cute to miss!


- Mama'sMoneySavers.com

The illustrations in this app are gorgeous and it has the feel of a real picture book. ... I won't spoil the ending of the story but I'll tell you it's a happy one and the message behind Lula's Brew is great.


- The iPhone Mom

Delightful in every way! My 4 year-old daughter and I both loved this charming picture book about an inventive young witch. It is narrated, written and illustrated by the enormously talented Elizabeth O. Dulemba. This app is presents a sweet, engaging and funny tale with bright, full-of-heart illustrations and easily-maneuvered page turns. It is wonderful for occupying a little one, as I have. It is adorable – a treasure you'll be glad you have many times over.

- JD at AppShouter


All Artwork © Elizabeth O. Dulemba - Y'all play nice, Okay?