e's news - November '07
Honors | Book News | Magazine News | Robert's Snow | Freebies | etc.


Honors:

Hi Y'all!
It's been a busy year for me, writing and illustrating for more hours than should be allowed
(and taking Spanish lessons)! But all this hard work is starting to pay off, and I have to share.





I told you I was named the 2007 Grand Prize W.I.N.NER in this year's SmartWriters.com Competition.
Wohoo!





Well, I also just received Honorable Mention in this year's 76th Annual Writer's Digest Writing Competion,
Children's Fiction category, for my picture book manuscript "Queen Bea" (out of 19,000 entries).
This is the 3rd honorable mention this story has received, so I have high hopes for it's future.
(Read the lovely letter I received on my blog.)


Book News:


PACO AND THE GIANT CHILE PLANT ~
PACO Y LA PLANTA DE CHILE GIGANTE
Raven Tree Press
The release date for this bilingual retelling of "Jack and the Beanstalk" has been bumped up to Spring 2008!
Review copies will be available as early as March, with the actual book available in April.
My calendar is quickly filling up for school visits and speaking engagements to celebrate its release,
especially around Cinco de Mayo, so if you'd like me to speak at your school or event, please schedule now!
(http://dulemba.com/index_visits.html)

Currently I'm illustrating Ready for Bed and Ready for the Day for Free Spirit Publishing.
I'll share images as soon as I'm able. They will also be released in 2008 so more information will follow soon.


Magazine News:

Earlier this year, Writer's Digest asked me to write an article on my path to success (that was a whaaa!?).
It's called "Drawing Success" and came out in the recent special edition "You Can Write for Children."
It's on shelves now, so pick one up!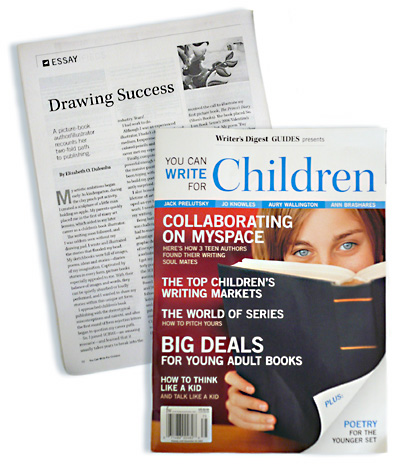 If you're a member of the Society of Children's Book Writers and Illustrators,
be sure to read my article, "Blog Book Tours," in the September-October '07 edition.
The rest of you can read about this new marketing phenomenon (and other articles) at my website:
http://dulemba.com/index_links.html

Also, look for my illustrations in future editions of Highlights and their new High Five magazines. (www.highlights.com)
I'm thrilled to have contributed to this gold standard in the children's world.


Roberts Snow: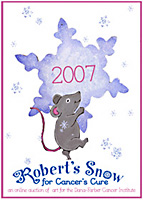 From the website:
Own a piece of art from your favorite children's book illustrator while helping to fight cancer.
Participate in Robert's Snow: for Cancer's Cure, a unique fundraiser for cancer research.
Since 2004, this online auction has raised over $200,000 for Dana-Farber, and with your help,
we can continue this holiday tradition in 2007.
Children's book illustrator Grace Lin wrote "Robert's Snow," which was inspired by her husband
Robert's battle with Ewing's sarcoma. After the book was published, Grace gathered artists from
all over the children's book illustrating community to create special snowflakes to be auctioned off,
with the proceeds benefiting sarcoma research at Dana-Farber. These snowflake auctions became known
as the event "Robert's Snow."

Robert has since lost his battle with cancer, but the auction continues to work towards finding a cure.
I was honored to contribute a snowflake to this year's auction which begins November 19th.
You can read more about it and my snowflake at my blog:
http://dulemba.com/2007/10/its-snowing-illustrator-interviews.html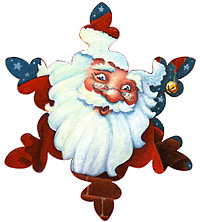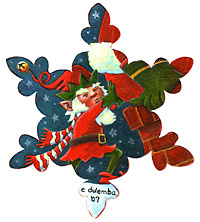 Freebies:

I've begun Coloring Page Tuesdays on my blog (http://dulemba.com/blogger.html) which is going over gang busters.
I upload a new coloring page every Tuesday, and if your budding artist can send their version back to me
as a low resolution .jpg, I'll post it on my blog.
(http://dulemba.com/index_ColoringPages.html)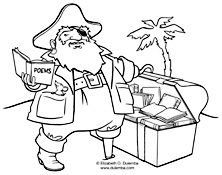 etc.:

Want me to visit your school or event?
Read about my visits at my website:
http://dulemba.com/index_visits.html

As always, you can order signed copies of my books
through my local independent children's bookstore:


Little Shop of Stories
Call (404) 373-6300,
email atlantacaps@aol.com,
or visit their new website
for more information.

Download more free activity pages at MY WEBSITE

Thanks Y'all!
e
Elizabeth O. Dulemba
elizabeth@dulemba.com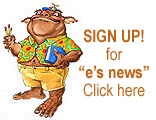 All Artwork © Elizabeth O. Dulemba - Y'all play nice, Okay?