Style Bibles: Finding Your Illustrative Voice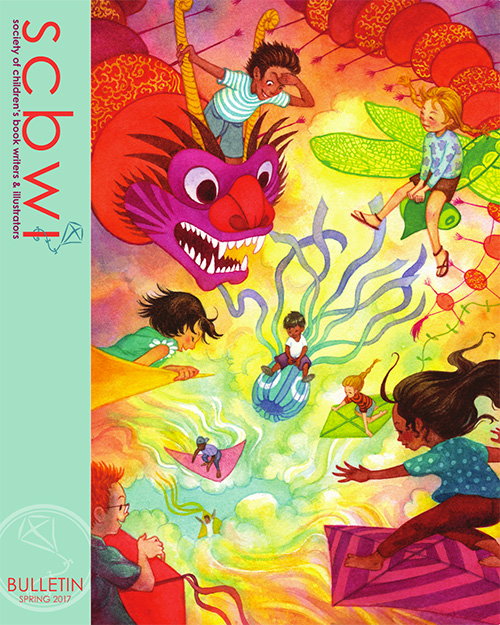 By Elizabeth O. Dulemba
(As seen in the Spring 2017 SCBWI Bulletin)

Julia Patton, author/illustrator of the new Drat That Fat Cat (Albert Whitman, Oct. 2016), recently introduced me to an idea which has completely changed my creative process. It's called a Style Bible and I bet it will help you too.
A Style Bible is somewhere between a sketchbook, a portfolio, and an idea-log. To make one, buy a nice, hard cover sketchbook. Divide the pages up into 26 sections and collage letters of the alphabet as tabs onto the dividing pages. (Use fewer pages for letters like 'X' and 'Q.') Working off the alphabet, create images to fill every section of the Style Bible.
You don't actually draw in your Style Bible, you pull items in with removable tape. That way, you are constantly refining and updating your content.
Julia says, "It's the more anal version of a sketchbook, where I can find stuff I want, without the scruffiness of a sketchbook I don't want anyone to see… No more stage fright of having to make a mark you're satisfied with." When filling your Style Bible, concentrate on narrative images. Make sure that what you draw has a story attached to it. Don't just draw an apple, draw an apple with a 'For Rent' sign and a prospective worm. You'll be amazed how this will flex your creative muscles. I've already come up with four stories from the sketches I've added.
The magic behind a Style Bible is that by using removable tape to paste drawings in, you can move them around and catch inspiration through odd associations and in places you may never have predicted. It gives you inspiriation to shake up a manuscript that might not be working yet, or to follow a tangent that might be more successful. In other words, it gets you unstuck. It forces you to explore themes and ideas you might not otherwise.
Julia says, "When I'm stumped for inspiration I may jump in and see where there are some gaps and just have some playtime. The empty white page syndrome gets spanked using this idea!"
But the most revolutionary thing about a Style Bible is that it helps you identify your personal style — how you draw things, like telephones, armadillos, or trains. With a Style Bible, when somebody asks if you can draw trees, you can turn to "T" and say, 'Yes, this is how I draw trees!' It makes your drawing choices more conscious and helps define your illustrative voice.
A Style Bible can also act as an idea-portfolio. It shows how you think.
Julia says, "I take it to meetings and this format has single handedly bagged me a few book deals."
Want proof? My agent flipped over the very first story I created as a result of my Style Bible. I tell you, this thing works!
As Julia says, "[A Style Bible is] my portable studio. I'd be quite lost without it… I dip into it when I need direction... Every year it gets shredded and re-born."
As it should. Because a Style Bible is a work-in-progress – always. And I've found it to be one of the most effective projects I can do to keep my creativity fresh.
I was so excited by this idea, I shared it with students in my Picture Book Design class at Hollins University in our MFA in Children's Book Writing and Illustrating program. Now they're all trying it out, and I am certain success awaits! Won't you join us?
# # #


Author/Illustrator Elizabeth Dulemba has over two dozen titles to her credit, including her debut historical fiction, A BIRD ON WATER STREET. She divides her time between teaching at Hollins University in Virginia, and Scotland, where she is continuing her studies at the University of Edinburgh. Learn more at: www.dulemba.com.
Learn more about Julia Patton at www.juliapatton.co.uk.
Click the image below to open the article as it appeared in The Bulletin in a new window.