Drawing Success
(As seen in Writer's Digest Special Edition: You Can Write for Children, October 2007)
by Elizabeth O. Dulemba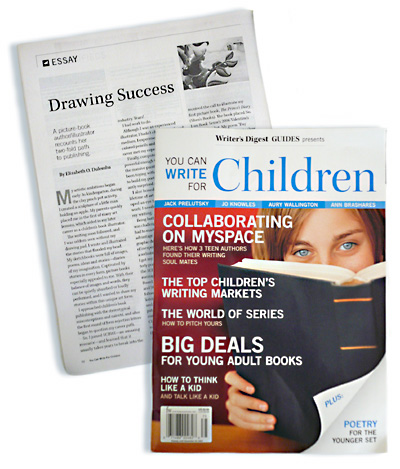 My artistic ambitions began early: In kindergarten, during the clay pinch pot activity, I created instead a sculpture of a little man holding an apple. It was then that my parents placed me in the first of many art lessons that would serve me well in my later career as a children's book illustrator.
Seldom without my drawing pad, I illustrated the stories that flooded my head. The writing came later, but my sketchbooks were full of images, poems, ideas and stories—diaries of my imagination. Captivated by stories in every form, picture books especially stood out to me. With their balance of images and words, they can be quietly absorbed or loudly performed, and I wanted to share my stories within this unique art form.
I approached children's book publishing with the stereotypical misconceptions and naivety. And after the first round of form rejection letters I began to question my career path.
So, I joined the Society of Children's Book Writers & Illustrators (SCBWI), which was an amazing resource and learned that it usually takes years to break into the industry. Years!
I had work to do.
Although I was an experienced illustrator, I hadn't chosen a preferred medium. I experimented with pastels, colored pencils and acrylics, but they never quite met my expectations.
Finally, computers became powerful enough to smoothly operate the massive painting programs I'd been toying with for years. I built my portfolio—pleasantly surprised as my style surfaced.
I also honed my writing. Over a lifetime of art training, I'd developed an eye to honestly evaluate my work; I needed to do the same with my writing.
Being both a writer and illustrator was challenging. But I had a distinct advantage with my background in graphic design, and I became the queen of inexpensive promotion. First, I built a website with my online portfolio. I also got my name out by writing articles for the SCBWI Bulletin; participating on message boards like Verla Kay's Blue Board, Childrens-Writers (Yahoo) and SCBWI; and writing and following blogs at JacketFlap.com. I listen to podcasts from BookExpo America and other industry events, participate regularly on IllustrationFriday.com and put my portfolio on ChildrensIllustrators.com. Not only were these fun things to do, but they've also produced beneficial leads.
And they worked. In 2004, I got the call to illustrate my first picture book, The Prince's Diary (Shen's Books). The book placed No. 1 on Book Sense's 2006 Valentine's Day Top Ten list. And my poem "Day After Christmas" was chosen to close the anthology Mistletoe Madness (Blooming Tree Press).
Since then, I've illustrated several books, sold short stories and articles, and won prizes in two writing contests. I work constantly, but I love every minute of it. It's a passion born from a lifelong obsession. And obsession is a necessary component, because it's been a difficult journey. Children's book publishing is a manic-depressive business with unbelievable highs and devastating lows. It requires patience and relinquishing control.
This dream to illustrate and write children's books has been long and difficult to achieve. But looking back, it's clear that the decisions I made in my life tied into the desire to share stories and contributed to the skills I enjoy now as a children's book writer and illustrator. Even re-imagining that pinch pot.


Elizabeth O. Dulemba (dulemba.com) has three books available and five forthcoming in 2008, including the bilingual Paco and the Giant Chile Plant (Raven Tree Press), for which she's learning Spanish. Her illustration "Lula's Brew" is the grand-prize-winner of Smart Writers' 2007 Write it Now! Competition. She speaks regularly at conferences and teaches Beginning Drawing and Creating Picture Books at the John C. Campbell Folk School.
All Artwork © Elizabeth O. Dulemba - Y'all play nice, Okay?