Schedule a Visit with "e":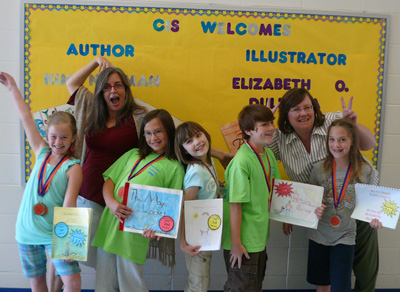 Thank you for your interest in inviting me to speak at your school or event! CLICK HERE for a list of my past speaking engagements for children and adults. CLICK HERE for a list of potential topics for your event, and kind comments from past engagements. For pricing and details, please read on.

Honorarium:
$0 10-15 minute "Hi!" and Q&A Skype visit (no reading, see below for requirements**)
*$250 15 minute - 50 minute Skype Visits - a full visit (see below for requirements**)

Please Note: I will be living outside the USA for a few years, so will only be available for major events (where the venues can fly me in from overseas) and virtual visits.

* I do offer discounts when book sales are included (10% off for every 100 books sold)!
** For all my skype visits (free or not), I do have some requirements: 1) Students must have read at least two of my books to be invested in my visit; 2) Students must spend some time at my website (or for the younger set, with my coloring pages) to learn about me and my books; 3) Students and/or teachers have prepared questions prior to my chat; and 4) I may use a screen capture of the visit to promote it on my blog.

For Kids (schools, libraries, festivals)
— A day includes up to three assemblies for K-12 students, 20 minutes to 1 hour long. Groups can range from 20 to a gazillion attendees (broken into appropriate age groups). It can also include a fun lunch with excelling students. Please allow 30 minutes to an hour for book signings.
Note! If you are a bookseller and you are able to arrange paid visits (and handle book sales) for e in your area, she will happily pay 10% of her fee to you as booking agent!

For Adults (festivals, conferences, workshops)
— Adult assemblies, conference sessions and workshops will be discussed and priced individually to meet your particular needs. e can cover a variety of topics.



Virtual Visits using Skype:
e will guide your audience through her online slide show about the process of creating a picture book and the life of an illustrator, and/or read one of her books, followed by Q&A. (The presentation can be adjusted for the target audience.) To conduct a virtual visit, you will need a Skype account, a computer with a web-cam and internet access, external speakers, and one or two monitors/projection screens.
10 minute visits are free, but do require the students have read at least three of Elizabeth's books, have spent time on her website (maybe downloaded and colored some coloring pages), have questions prepared prior to the chat, and that Elizabeth can use a screen capture of the event on her blog. A reading will not be included in free Skype visits.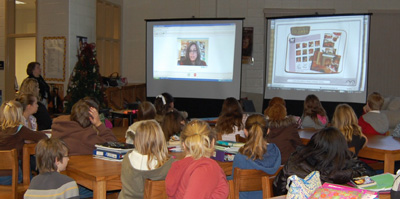 Looking for funding?
Consider teaming up with a nearby school to split costs, hosting a fund-raiser through your PTA, or apply for a grant:

Schedule

email to schedule a visit.
References available on request.

How Does a School Visit Work?
Get the kids excited - the more the students and staff get involved, the better the visit will be!
Go to the ALSC's (Association for Library Service to Children) for tips on preparing a great visit or read . . .

Preparing Your School:
— Read and show e's books to your students. Download e's book activities and coloring pages and decorate! Start gathering questions. Read "How to Make Sure You and Your Students Get the Most Out of the Experience" by teacher Jillian Terry at The Other Side of the Story.
To quote award-winning author, Deborah Wiles:
We say this all the time, we authors, and it sounds self-serving, perhaps, but it's not. It's really for YOU that we say it. You are paying us to come and share with your students, and the deepest sharing, the most meaningful connections -- the most long lasting results of this day -- come when students are prepared for that particular author, when they know the characters in that author's books, are familiar with the stories -- their faces shine when they recognize those characters, that storyline, and we laugh with recognition at how they are like us.
— Set up a display of e's books in the library and/or on a billboard near the entrance to your school. Send an announcement home to the parents. Promotional materials such as a list of e's books, their covers, and a photo can be downloaded at her MEDIA PAGE.
— Order books! Six weeks before e's visit, customize and send home a book order form with your students to make the visit a personal experience.
Metro Atlanta schools order books through Little Shop of Stories in Decatur, Georgia
(404) 373-6300 or littleshopofstories@gmail.com.
Out of town order books through your local independent bookseller.

Two Weeks Before e's Visit:
— Place order forms in books with a note explaining who the dedication should mention.
— Not all children can afford books. Download free activity pages as hand-outs under freebies.

Set-Up
— If necessary, e can provide her own easel and drawing pad to draw characters from her books which she will sign and leave for the school. Have aerosol hairspray or spray fixative on hand to secure the pastels.
— If the audience will be large, a head-set (hands free) microphone is a good addition.
— Set up a laptop (with internet access) to a projector so e can share her online slideshow. (Smartboards work GREAT for this!) The slide show is buried at a secret link in her website which she will share beforehand.
— Choose a presentation room where mild screaming and raucous laughter will not disturb other classrooms.

The Day
— Designate somebody as e's main contact person to work out any last minute details, and take pictures for e to post on her blog.
— Provide water and lunch as e tends to bite when she's hungry.
— Please allow time for bathroom breaks - sounds obvious, but . . .

Kind Praise:
"Thank you twice for the wonderful program on Wednesday last. You were so amazing and with such an oddly matched group. We had several compliments from folks later in the evening. I'm always just blown away by how easy you make drawing look. Thank you for the wonderful picture of Rosebud. She is just beautiful and the Friends of the Decatur Library will be getting her framed for display in the Children's Room."
— Patricia Dollisch, Youth Services Manager, Decatur Library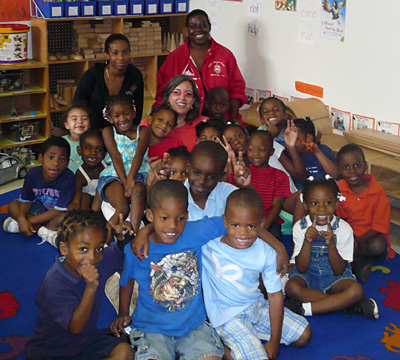 "Thank you for inspiring our students! . . . Our budding artists and authors will thrive as a result of you sharing your time and talents with them."
— Principal Bernetta Jones-Jordan, Avondale Middle School, May 2006
"Your visit was quite well received and you did a very good job of communicating to your audience the nature of your work and interesting them in it. . . . Keep doing what you're doing!"
— Media Specialist Beverly Gaines, Avondale Middle School, May 2006
"Good reality, honesty with encouragement."
"Good candid and encouraging talk. Very good info, tips, etc."
"Great speaker. Knows her stuff."
­ Participants at the Blue Ridge Writer's Conference, March 2005
"Great instructor - so willing to share her expertise and go the extra mile."
"Elizabeth delivered an amazing amount of information in a very short time. She was upbeat and helpful the entire time."
"Instructor was really great . . . patient and willing to instruct each student in the way they needed."
­ Beginning Drawing Students, John C. Campbell Folk School, August 2005
"Thanks for coming in and doing the talk, Elizabeth. You are so generous with your knowledge about your market. I heard several unprovoked comments calling the talk very informative, showing both the good and bad of children's book illustration and well worth the time. You are welcome at SCAD anytime."
- Jay Montgomery, Instructor, Savvanah College of Art & Design, Atlanta Campus, January 2007
"Elizabeth is very positive and has an informal style that is perfect for a class of beginners. I've learned more than I ever thought possible for a weekend class."
"Elizabeth was thoroughly enjoyable and very knowledgeable. Explained and taught so very understandably."
"My first formal drawing education and I enjoyed it very much. Terrific instructor, very patient. Thank you, "e"!
- Beginning Drawing Students, John C. Campbell Folk School, May 2007
All Artwork © Elizabeth O. Dulemba - Y'all play nice, Okay?