MerBaby's Lullaby is a collaboration with award-winning author Jane Yolen,
Released in 2019 fromSimon and Schuster's Little Simon imprint.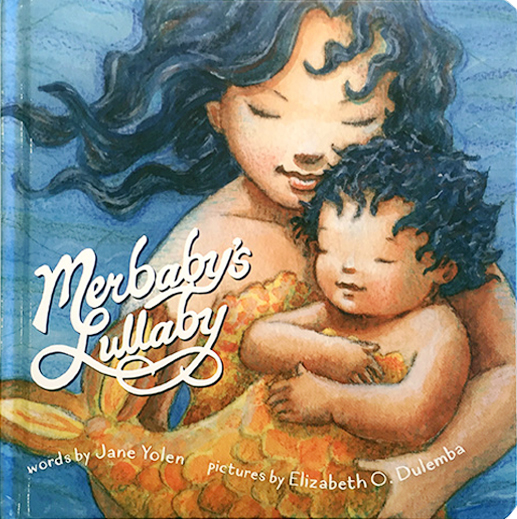 From New York Times bestselling author Jane Yolen
comes a lilting lullaby from the bottom of the sea.
Hush, foam rocker,
sleep, wave breaker.
Close your eyes and dream,
tide breaker.
A hush-filled bedtime rhyme for parents to share with their newborns, Merbaby's Lullaby is an underwater cradlesong written by Jane Yolen and illustrated by Elizabeth O. Dulemba. Join a mermaid as she helps her merbaby to sleep, rocking with the gentle waves, singing with the whispering whales, and settling in with sea stars lighting the way to sweet dreams.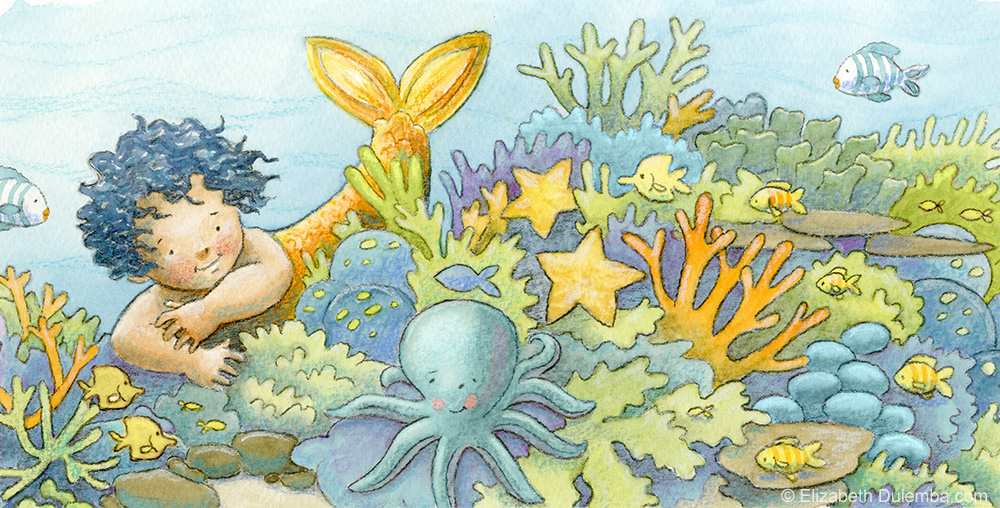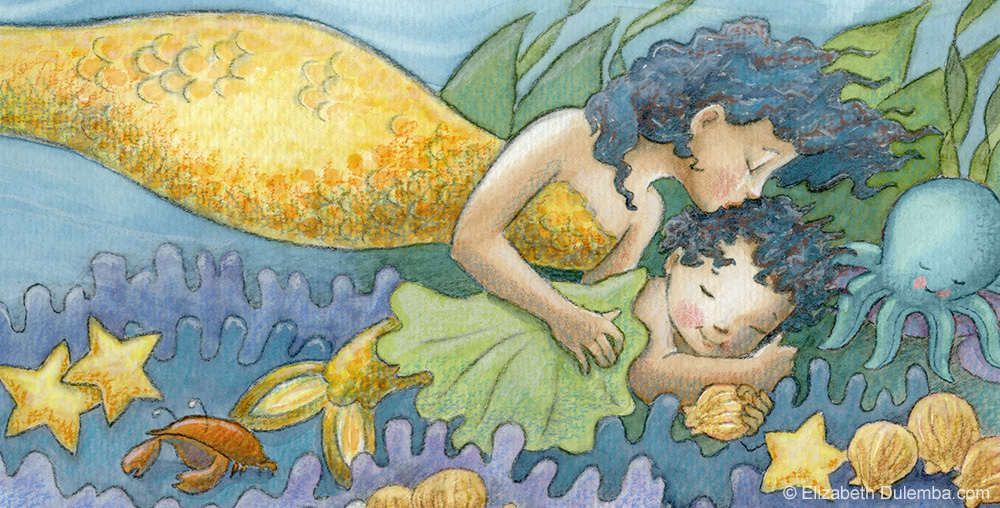 Kirkus: (June 15, 2019) A mermother sings her merbaby to sleep in the age-old tradition of mothers and babies. A wealth of words and phrases related to sleep characterizes this gentle bedtime song: "hush," "sleep," "close your eyes and dream," "peace," "nap," "rock," "shush." The ocean-themed vocabulary is just as rich: "foam rocker," "wave maker," "tide breaker," "sea talker," "pond wader," "deep diver," "shell keeper." In furthering the enticement to sleep, promises are made: "Waves will rock you"; "Whales will sing you"; "Sea stars a soft light will bring you." The full-bleed illustrations, done in what appears to be colored pencil, have a gentleness to them that goes hand in hand with the text, the palette employing plenty of blues as befits an ocean theme. Merbaby can be seen playing with a dolphin, swimming with an otter, racing waves with fish, enjoying a coral reef, observing a tide pool, and just swimming with its mother. In the end, goal achieved and merbaby's eyes closed, mermother plants a kiss on ocean-tussled hair "Be your finny mother's sleeper." Mermother and baby have pale skin, wavy blue/black hair, and golden, fish-scale tails. A soothing lullaby for a merbaby—or a human one. (Board book. 1-2)

PW (May 20, 2019 edition): Yolen's gentle rhyming board book features a mother and child mermaid who explore, play, and sleep in their underwater world. In Dulemba's light, chalky illustrations, the mermaids have dappled orange tails and blue hair—the mother mermaid's long and flowy, and the child's short and curly. Yolen's verse speaks to the mermaid child: "Sleep, wave maker,/ Close your eyes and dream,/ tide breaker." The two swim among colorful fish, stingrays, whales, and a friendly otter, until the mother tucks the merbaby amid corals and kelps: "Hush, deep diver,/ shush, shell keeper,/ Be your finny/ mother's sleeper." A loving cradlesong for merbabies everywhere.

Click here to sign up for occassional emailed art samples.
All Artwork © Elizabeth O. Dulemba - Y'all play nice, Okay?