Spanish 101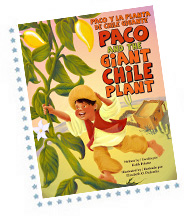 Tonight I start taking spanish lessons at the
Latin American Association
in Atlanta. I'm excited and a wee bit nervous. I hope this old decrepit brain can squeeze a bit more info into it.
I've always wanted to speak and understand Spanish - well all languages really. I LOVE languages. I speak some French (need a long vacation to Paris to trip over to fluent), and being a romance language, the structure is the same. That'll help. I can also speak a few words in Italian, Hebrew, German, Swahili, Mandarin, oh, and Amharic (Ethiopian). Love 'em, love 'em all.
The Spanish is most important right now for two reasons: one, we have a wonderful culture moving into the state of Georgia and I want to be able to really experience it; and two,
PACO AND THE GIANT CHILE PLANT
comes out in June 2008. It's a bilingual picture book, and I'd like to be able to speak to what I hope will be a large, culturally mixed audience.
Wish me luck!
Labels: General