Illustration Friday: Clear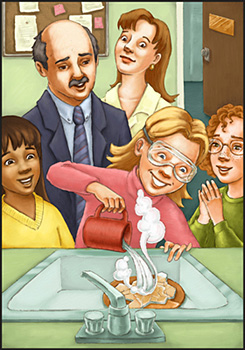 This is a tricky theme this week, but I'll give it a go.
This is an illustration from my latest release,
"Haley and the Big Blast."
When Haley pours hot water on
clear
, cold glass, it cracks - solving
(clarifying)
the mystery of the school's broken windows. (Notice she's wearing
clear
goggles . . . ) Ha!
I just received my copies of "Haley" yesterday and am putting together my
big web announce
over the weekend. Look for details coming soon on my blog and in my newsletter (sign up to the right)!
Labels: IF