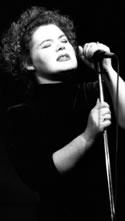 Hubbie and I went to see
Maura O'Connell
at
Eddie's Attic
last night. She's an Irish folk singer and wow, what a voice. Her singing is soulful, painful, beautiful and pure.
I first discovered her about twelve (or more?) years ago in Chattanooga, Tennessee during the
Riverbend Festival
and became an instant fan.
Turned out hubbie heard about her even earlier. When we married and combined our music libraries, we had several duplicates of Muara's music.
I always get inspired during concerts like hers. Between the music and the people watching, I had to pull out one of my bookmarks and scribble down thoughts: "There's a hole in my pocket and I lost my rainbow. I lost my dog and my lucky penny but I kept my dime. . . . You make me matter . . . He was uncomfortable with the width that made him
man
. If he'd been born right, he'd have been narrow, petite, leaving little impact on the world . . . "
What do these mean? I have no idea. And yes, a lovely buzz is probably due some of the credit.
Hubbie and I are both out of town this weekend. I'm teaching
"Creating Picture Books" at John C. Campbell
(more on that later) and hubbie's out on his motorcycle
again
! (Apparently the eight day riding vacation last week wasn't enough.) So we celebrated date night a bit early. What a great evening!
Labels: General