Blog Book Tour for Barbara Johansen Newman!
No personality here. Nope, nada, zip.
Whatever!
This week I would like to introduce you all to a talented and crazy lady,
Barbara Johansen Newman
. She's been an artist since day one, and a highly successful children's book illustrator as her latest artistic incarnation. And now she's a writer too. Her first book which she both wrote and illustrated has just been released by Sterling Publishing, and it's a hootenany of a humdinger!
Barbara's book tour took her to
Dotti Enderle's blog
yesterday, mine today,
Ruth McNally Barshaw's
blog Wednesday,
Kim Norman's
on Thursday, and
Karen Lee's
on Friday. Read my interview with Barbara, then visit the other blogs to learn more.
Click the cover to buy a copy of Tex & Sugar.
After an impressive lineup of books illustrated by you, congratulations on your first book with only your name on the cover! Tex & Sugar, written AND illustrated by YOU has just been released by Sterling Publishers! Give us a quickie about the story.
Thanks, Elizabeth, for nice words and the congratulations!
The story of my first book as author and illustrator is a saga.
Tex and Sugar began as a little poem written in 1983, called Tex Mex Rex. It was part of a collection that I had written about work-a-day cats called, "Seven Working Kitty City Ditties." Each cat had a different job.
On a trip to NYC to show my portfolio to publishers, one art editor, then at Knopf, came downstairs to meet me, pointed to Tex Mex Rex and said, "Turn this into its own book."
I made plans to do that, but life came along. I got busy with editorial work, buying a house, and adopting our first child. And I continued to be sidetracked with more magazine work and two more sons, not to mention extended family. Seventeen years passed by before I pulled that old collection of poems out and started working on Tex.
Eventually I had a story for him, and the first publisher I sent it to was one I was working with. They were interested in the story but not with me as illustrator. They wanted to "stardust" the story with a big name illustrator, since I was unknown as a writer. I said no. Not that story. Too personal. I was told I was crazy, but I just could not part with the character.
The manuscript went through rewrites and revisions, in between my illustration jobs and family life. It came close to being sold, and then not. But every time I pulled it out for rewriting, it got better.
Finally, in in the spring of 2005 I committed myself to working on getting this story published. I sent it out simultaneously to about 7 places, and Meredith Mundy Wasinger at Sterling loved it right away. Sterling made an offer and I withdrew it from consideration at the other houses. I was thrilled because it meant I would be able to work with Meredith again.
So there you have it: 22 years from first draft to sale! A long time to cook on the stove. I tell this story because I think people should never give up on dreams.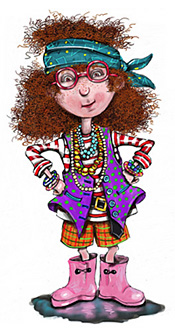 You have such an energetic colorful style. How do you achieve it?
During the only year in college that was of any value to me, a professor looked at some of my work and said: "Barbara, draw from your head." I think he realized that the work I did that was purely drawn from my heart and not from life was so much better because it was intuitive, as opposed to tightly rendered. When I want to work on a project, I need to get to the part of me that draws by instinct, instead of by replication. I try NOT to plan, but work instead from that subconscious place that does what needs doing without thinking too much about it. You know – like when you doodle while talking on the phone. Those drawings are always so pure and fresh.
Color is important to me. I love color and always have, but I worked for many years with a lack of it. Not sure why, except I was drawn to line, with color being secondary. I needed to become a colorist. I learned to work with color in the last few years I made the dolls. And then, once I started illustrating I found such pleasure in color.
And here is something else: my house has gotten more and more colorful, too.
How was writing different for you? Was it a completely different way to work?
I have to remind myself that I need to write the way I draw – like a stream of random thoughts and ideas that I will make sense of later. "Just get those ideas down," I have to repeat over and over to myself. It is not easy for me to do this, but I think I write better stories when I write with my own voice, from "that" place, like finding my own style of drawing. I am still working on that.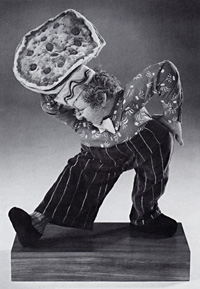 You have an extensive history in puppetry and soft figure sculpting. How does that influence your style today?
Making dolls and puppets is all about being character driven and finding those nuances in the details of dress and behavior that make protagonists who they are. When I write, I work from the character and the setting, because that is what I like: portraits full of details that paint the picture and tell you who this person is. I worked that way as a puppeteer and I worked that way as a doll maker.
It is a bit of a struggle for me though, because characters alone do not make a plot. I can create great characters and very detailed, believable settings and situations. Plot is much harder. It is my biggest challenge.
I love the boots you wear while promoting Tex & Sugar. Where'd you find them?
I love cowboy boots and have many pairs in different colors. But when Tex and Sugar came out I decided I needed a genuine, custom pair of cowboy boots to celebrate. I went on line and found
Rocketbuster Boots
in El Paso, Texas. How perfect was that? Sugar leaves El Paso to hit NYC! The styles they showed on line knocked my socks off! I told them what I was looking for and they customized their design for me. BTW, one of the owners of Rocketbusters left NYC for El Paso. I found that little twist to make the whole thing even more interesting and maybe ...even...of ....cosmic significance.........
Here is a big problem, though: I think I would like more pairs of boots from Rocketbusters.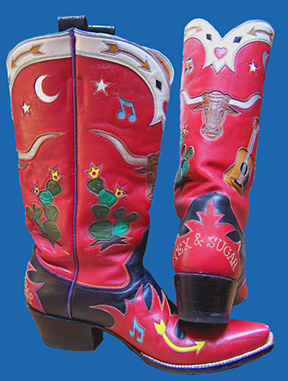 Me too! Thanks Barb!
Labels: BlogBookTour