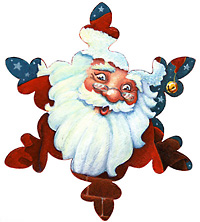 As many of you know, the bloggers at
Seven Impossible Things Before Breakfast
came up with a great way for those who didn't create snowflakes for
Robert's Snow
to participate in their own way with
"Blogging for a Cure."
Bloggers have been featuring snowflake illustrators in wonderful interviews for weeks now. Today, it's my turn. I've been interviewed by
Stephanie Ruble at "sruble's world."
She asked some great questions which I had a blast answering. So go
check it out!
Follow the interviews of the other illustrators by clicking the Robert's Snow poster to the right (or
go here
). I've been updating all the links as they become live.
And be sure to check out the
Robert's Snow
website for the important cancer research fund-raising event. Maybe you'll fall in love with a snowflake and help raise money for this worthwhile cause.