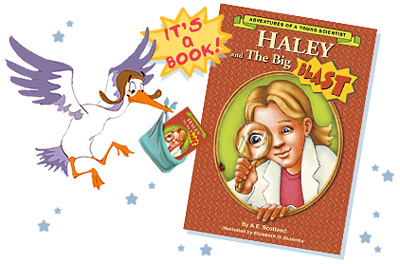 Hi Y'all! I have BIG news!
HALEY AND THE BIG BLAST
, written by A.E. Scotland and illustrated by Yours Truly for
Amy Elise Press
, has just been released!
Haley is a young scientist with a lot of crazy ideas. Her constant experiments get her into all sorts of trouble. But, when all the windows at her school are mysteriously shattered, it's Haley's science experiment which proves how it occured.
HALEY AND THE BIG BLAST
is a fun chapter book for bright young minds, and best of all, a "Haley" doll is available for your budding young scientist.
Haley would make a great Christmas present! Click on the images to visit the Amy Elise website.
Labels: BigNews