PICTURE WRITING Giveaway!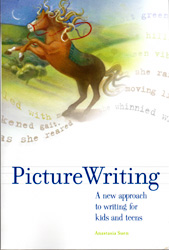 When I was named the
Grand Prize W.I.N.ner
of this year's
SmartWriters.com
Competition, I won a shiny new copy of
Anastasia Suen's
Picture Writing
. Since I already have a much loved, dog-eared copy, I
held a drawing
to give the new one away. Turned out
Kelly Milner Halls
(one of the competition organizers) also had an extra copy - so two books are going out to two lucky readers!
Well, hubbie had the honor of picking two names out of a hat last night, and the winners are (drum roll please),
Janice Skivington
and
Kristi Valiant
!
So, check your mailboxes ladies as
Picture Writing
is on its way!! Thanks to all who entered. This was my first foray into a giveaway and 'twas much fun. I might have to do it again . . .