Caught Snowflake!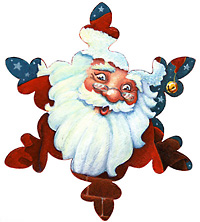 If you
read below
, my snowflake, "Give a Little Push," was in the first round of auctions for
Robert's Snow
.
LindaBudz was kind enough to leave a comment that she is the "winner" of my snowflake! She
blogged about it
as well.
Linda made the highest bid for my snowflake, so this was an expensive "win," but Linda's generosity will go towards funds for the
Dana Farber Cancer Research Institute
, a highly worthwhile cause.
Linda, thanks so much for your kind words about my work, but especially for helping raise money to find a cure for cancer. I can't think of a better way to kick off a season of good cheer. My warmest wishes for a happy holiday go out to you, your family, and your new little nephew.
I'm so pleased my snowflake found a great home.