SCBWI LA Summer Conference - Friday Run-Down!!
Here we go! It may take a few attempts to get it all in, but I'll try to make you feel like you were there too . . .
We (Hubbie and I) arrived in LA and I would have said we weren't in Kansas anymore, but the rooster in baggage claim had us wondering. However, the sight of palm trees floating above us like giant green bubbles soon convinced us - We're in L.A. BABY!
After settling into our room, I headed for the lobby where I immediately hooked up with several Blue Borders including
Candie Moonshower
(The Legend of Zoey)
,
Linda Joy Singleton
(Don't Die Dragonfly)
and
Verla Kay
(Rough, Tough Charlie)
herself. (Everybody was so ready to have a good time!)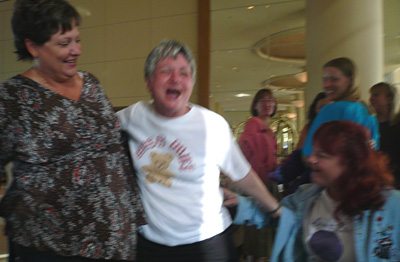 That night, still on Atlanta time, I tried to make myself sleep past 4 am, but I was too excited to get going. Friday thrust us into high gear conference mode.
FRIDAY
I had emailed
Kirby Larson
when I finished reading her Newbery Honor book,
Hattie Big Sky
, and she was gracious enough to meet me for breakfast. On the way there, I ran into several of my fellow Southern-Breezers (
Robyn Hood Black
and
Paula Puckett
) and they joined us.
I asked Kirby some questions about strengthening voice, and what she shared in those few minutes was so incredibly helpful, I later attended her talk on the same subject. She asked me a great question, "What are your main character's faults?" She said, "We often love our MCs so much, we make them too perfect." I have to say, it was the most informative talk I attended, full of creative revelations to help with my w.i.p. novel, "A Bird on Water Street." If you ever get a chance to meet Kirby, make a point. She is a treasure.
With the welcome and introductions I was tickled to learn that
Lin Oliver
is one funny, funny lady. She shared some amazing statistics: of the 964 attendees, 466 were already published! Talk about being among equals.
Walter Dean Myers
opened, and it was a pleasure to listen to his deep, poetic voice. He spoke of the importance of details in your work and said, "Recognize details as truth." But I especially liked his comment, "Nobody pays me to daydream, but when I write it down . . ."
By the way, it was especially nice to have my Southern Breeze peeps to hang with during the conference. It's great to meet new people, but it's intense and tiring too. We saved seats for each other and became a mini oasis hang-out for each other. Here we are:
Donna Bowman
,
Jo Kittinger
(who gave a talk on Easy Readers), Me, Robyn and Paula.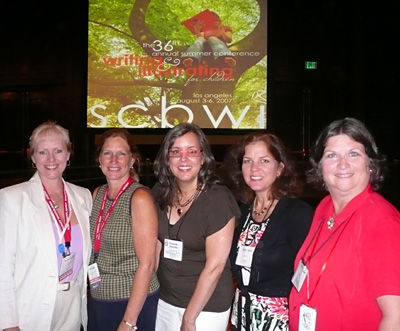 Next,
Peter Brown
entertained us with a slide show of his beginnings and method to create
Chowder
and
Flight of the Dodo
. I so love his work. He's only 28 years old, but this guy is off to a roaring start with his career. Makes me wonder where I'd be if I started earlier . . . (honestly, I don't think I was ready back then).
Break-out sessions followed and I went to see
Allyn Johnston
, Editor in Chief of
Harcourt Children's Books
. Many of the editors joked about where they arrested in their early development, Allyn claims age six. It's reflected in the work she likes most, young picture books, although Harcourt also publishes PBs through YA. She shared the stage with several of her staff:
Andrea Bebe Welch
, Editor;
Beth Jacobsen
, Allyn's Editorial Assistant; and
Jessie Dzundza
, Editorial Assistant. I found their specifics interesting. Twelve editors and Assistant Editors report to Allyn, five directly. She edits 10-15 books a year. In her later talk with Marla Frazee, I also got a sense of how inspired and inspiring she can be as an editor. She's got a strong eye to take an idea from great to
wowsa!
Lunch was a joke as my manuscript critique was scheduled right in the middle of it. (I wasn't kidding about missing meals.) I met with
Kelly DiPucchio
who gave me some great suggestions to bump up my picture book, "Queen Bea" (which has won two honorable mentions in writing contests but has yet to sell).
The great speakers continued with
Emma Dryden
, Vice President, Associate Publisher of
Atheneum
(pronounced Ath'e nA'um) BFYR and
Margaret K. McElderry
(pronounced MAC'el DERR'y) Books, both imprints of
Simon & Schuster Children's Publishing
.
More break-out sessions followed where I learned so much from Kirby.
A panel -
panel
- followed with (drum roll please):
Arthur Levine
(of his own imprint at Scholastic);
Elizabeth Parisi
(Art Director, Scholastic);
Mark McVeigh
(now Editorial Director of Aladdin Paperbacks at Simon & Schuster); and
Krista Marino
(Editor at
Delacorte/Random House
). Gads, could you ask for a more impressive line-up?
They spoke about accepting and giving critiques . . . graciously. The one thing I understood from all of them is the great respect they have for their authors and how once one is published, they see themselves as equals with their authors (okay, Arthur - whatEVER!).
The Wine & Cheese Party was a blur as I had to leave early to enjoy dinner with my cousin's husband. Bruce is from New Zealand and has a fabulous accent which we (Hubbie and I) enjoyed over some kickin' Mexican food on Sunset Boulevard.
And that was just Friday!
Click here
to read about Saturday!
Labels: Events