Illustration Friday: Poem, An Ode to Harry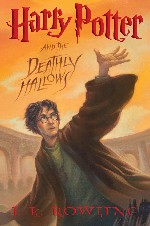 An Ode to Harry
by Elizabeth O. Dulemba
'Twas release night of Harry
and all through the town
not a reader could sleep
or put the book down.
We went to the party
and claimed our great tome.
We mingled with muggles
then took our book home.

We argued and fought
o'er who would read first,
and find out who died
as the other one cursed,
"Don't tell me! Don't tell me!
And hide the reviews.
I'll read for myself
the terrible news
Of who doesn't leave
the Hallows alive.
I can't wait to know
who doesn't survive."
But once I've found out
the journey will end.
I'll miss my dear Harry.
He's been a good friend.
Since Sorcerer's Stone,
I've found the books groovy.
There's no more to wait for,
except for . . . the movie!
(Feel free to share, but please include credit.)