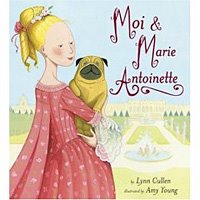 Saturday, hubbie and I stopped by my favorite independent book store, Little Shop of Stories, to see Lynn Cullen sign her new picture book,
"Moi & Marie Antoinette"
(illustrated by Amy L. Young, Bloomsbury).

Lynn and a friend were dressed to the nines in bustled pink dresses and wigs. I honestly didn't recognize her when I first walked in. They looked great.
The store played baroque music and served petits fours . It was a most refined event.
There were even pugs! Of course, there had to be pugs as the star of the book is Marie Antoinette's pug. I bought a copy for my sister and her pug, Geisha.
UPDATE!
OMG - you get to see! Lynn sent me a picture of her with the pugs and the petits fours. Ain't it great?
Labels: Events