Illustration Friday: Trouble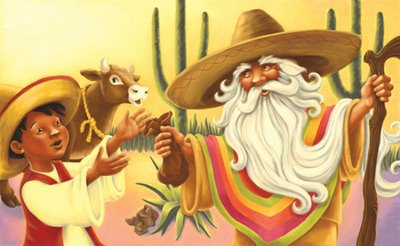 No Paco! Don't take the seeds!
Okay, well just about everything in my portfolio can fit with this week's theme, but then, I think most good art should represent trouble (a.k.a. tension) on some level.
This piece is from the bilingual picture book I'm currently working on for
Raven Tree Press
,
"Paco and the Giant Chile Plant ~ Paco y la Planta de Chile Gigante."
It is a retelling of "Jack and the Beanstalk" with interesting parallels. Here, Paco sells his
vaca
for chile seeds.
Look for it in Spring 2008! (And click the image to see it larger.)
.
Labels: IF