SCBWI LA Summer Conference - The Ball and Sunday!!
I'm sure you've heard about the "Under the Light of the Silvery Moon Ball" by now (and
Jay Asher's
incredible outfit!), and since I don't have embarrassing pictures to share (dang!) I'll glaze over it. Just let it be said that
Kevan Atteberry
had a harem of admirers (why do women go nuts for teddy bears?). Actually, he had reason to celebrate as he just found out his forthcoming picture book,
Frankie Stein
, has already gone into a second printing! Congrats Kevan! We all boogied our butts off far longer than I thought we'd be capable of standing.
SUNDAY
As I mentioned, I had a great breakfast with
Cynthia Leitich Smith
who gave me some great avenues to research for my next novel (no hints).
Mark McVeigh
and
Laurent Linn
gave a fascinating look into the workings between an editor and an art director. Much is affected by the say of the sales team as to whether or not they think they can sell a book, which can send an art department through some serious hoops. But everybody truly seems to have the best interest of the book at heart. Btw, I tried speaking French with Laurent, but my head is so full of Spanish right now, it didn't work very well. He was quite kind about it.
The captain of the Nerd Fighters spoke next,
John Green
, winner of the Printz Award. He lived up to every bit of his reputation. He is smart, irreverent, hilarious, and incredibly satisfying to listen to. He talked about how writing is translating ideas into text and said, "The truth does not lie in the facts" and that "Great books do not happen by accident." Great speaker.
Emma Dryden
kept my attention for the next two break-out sessions as I listened to her "Guide to Writing the Novel" and her views on picture books. I liked her comment that a good story, "must resonate with a reader's inner world." She's also been quoted as saying, "Embrace the weird." She also wouldn't mind seeing a story about a moose . . .
But between these break-out sessions was the Golden Kite Luncheon. I was thrilled when my bud,
David Hohn
, won first runner up in the portfolio competition!
Ashley Mims
won the coveted trip to New York and meetings with Art Directors. Wowsa!
Sunday wrapped up with an entertaining panel discussion between
Linda Sue Park
(can I just say, she is a super nice person and I was floored that she actually knew who I was!?) and her publisher,
Dinah Stevenson
(VP and Publisher at Clarion Books). Dinah said something that especially resonated with my ever-distracted brain, "Focus your energy on your craft." Linda Sue loves endings with "unexpected inevitability." They were fun to listen to.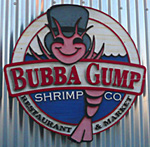 Hubbie was hanging with friends until late, so I hung with my Southern Breeze peeps that night (joined by
Greg Fishbone
). We headed for the Santa Monica Pier and Bubba Gumps!
This was the view while we ate - no lie! And boy, did we need the break. Because believe it or not,
we weren't finished yet!
Labels: Events