School Visits with Dumb Bunny!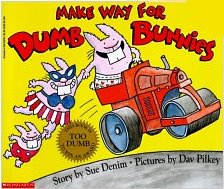 The
Decatur Book Festival
is this weekend (more on this coming soon!) and to help promote the children's portion, I visited two elementary schools this morning (Clairmont Elementary and Winnona Park Elementary) with Little Shop of Stories owner, Diane Capriola . . . dressed as Dumb Bunny (Dav Pilkey's funny character)!! The kids went wild nutso when she entered the room - it was so cute! She hammed it up completely and wagged her tail at them - the kids grabbed for her like wild Beatles' fans!! At Winnona, I read "Glitter Girl and the Crazy Cheese" in the round (yup, I had to turn in circles while reading) to about 250 kids - they were so cute. I tell ya, when I got to the "Ahhhh" page in "Glitter Girl," it was deafening! So much fun! Tomorrow I visit Oakhurst Elementary - can't wait!
Labels: Events