e's News - April '07
Hi Y'all!
BIG NEWS
Glitter Girl and the Crazy Cheese
sold over 12 million copies . . .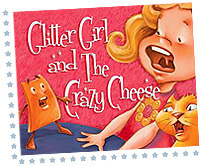 April Fool's!
(although that is the number of the new Harry Potter books being printed - WOW!)
It's been a while since my last newsletter, but rest assured, it's not been for lack of activity! I have several projects in the works which I can't share too much information about just yet, including new picture books and my first novel.
2008 is looking to be a very big year for me —
so stay tuned!
One project I can share with you is
PACO AND THE GIANT CHILE PLANT ~ PACO Y LA PLANTA DE CHILE GIGANTE
I'm busy illustrating it now and it will be released in June 2008 by
Raven Tree Press
I've been taking Spanish lessons at the
Latin American Association
to prepare for my multi-cultural audience.
Also coming in 2008 is
from Harcourt Educational.
In the mean time, it's time to register
for my classes at the
John C. Campbell Folk School
coming up this May.
I'm teaching two weekend classes this year:
Beginning Drawing, May 4 - 6
and
Creating Children's Picture Books, May 25 - 27
For those of you not familiar with John C. Campbell, it's just outside Murphy, North Carolina in the beautiful Appalachian mountains. The camp has been teaching folk/craft skills for almost 100 years and is a magical camp for adults. It's a great mini-vacation (even for the instructors) and allows you the chance to learn something new or hone a craft you don't usually get time for. The food is fantastic, the people are friendly, and it is a true mini-escape.
Read more about the camp at
http://www.folkschool.com
.
Hope to see you there!
Along with John C., I'm looking forward to the Kick Off Summer Reading Festival at River Eves Elementary School in April.
Want me to visit your school or event? Read about my visits at my website:
http://dulemba.com/index_visits.html
As always, you can order signed copies of my books
through my local independent children's bookstore:
Little Shop of Stories
Call (404) 373-6300 or
email
atlantacaps@aol.com
for more information.
For free coloring and activity pages,
visit
MY WEBSITE
at
www.dulemba.com
or
sign up for my newsletter here.
To view this newsletter in its original formatting, go
HERE
.
Thanks Y'all!
:)
e
Labels: Events