e's news - August '07
Hi All! It's been a few months since my last newsletter. This year has truly turned into a "nose to grindstone" kind of year for me - work, work, work. The good news is, it's paying off. I have SIX books coming out in 2008 (two trade picture books, two parenting aid picture books, and two educational picture books). I'll talk about them more in upcoming newsletters. I also have an article in the upcoming "You Can Write for Children" issue of
Writer's Digest Magazine
on my "Path to Success" - ha! No secret there, just b.i.c. as Jane Yolen likes to say (butt in chair). I believe it will be the October issue, but it hits shelves September 25th, so look for it! In the mean time, scroll down to see my great news from SmartWriters.com and don't miss the Decatur Book Festival where I'll be moderating this year's illustrator panel.
Good News!

I was named the Grand Prize W.I.N.NER in this year's 2007 SmartWriters.com Competition for my illustration, "Lula's Brew"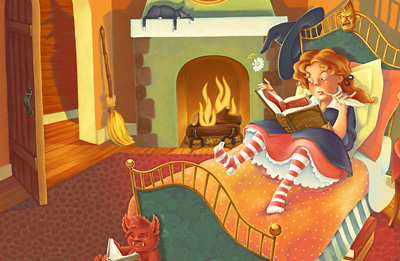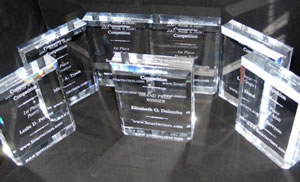 This was the first year an illustrator won this competition (and my first trophy - ever), so I was incredibely honored. (That's my lovely trophy in the front.) Winning this competition also ended up being a huge boon when I attended my first
Society of Children's Book Writers and Illustrators (SCBWI)
National Conference in Los Angeles this summer. Read about my experiences on
my blog
.
It's time again for the

I will be moderating the illustrator panel on Sunday, September 2nd at 1:00pm with Chris Raschka, Judy Schachner, Mark Braught, and Laura Knorr. Be there for a good time!
One of my SIX books coming out in 2008 is
PACO AND THE GIANT CHILE PLANT ~
PACO Y LA PLANTA DE CHILE GIGANTE
Raven Tree Press
, June 2008
(My Spanish lessons continue . . .)
Want me to visit your school or event? Read about my visits at my website:
http://dulemba.com/index_visits.html
As always, you can order signed copies of my books through my local independent children's bookstore:
Little Shop of Stories
Call (404) 373-6300,
email
atlantacaps@aol.com
,
or
visit their new website
for more information.
Visit
MY BLOG
for
COLORING PAGE TUESDAYS
and download free activity pages at
MY WEBSITE
Thanks Y'all!
e
Elizabeth O. Dulemba
elizabeth@dulemba.com