Coloring Pirates!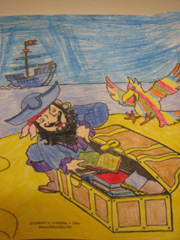 A local credit union recently used my "Pirate Treasure" coloring page in a promotion for their bank.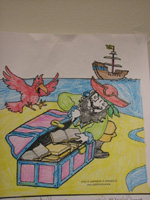 Kids colored tons of my art and the bank had a contest. Here are the three winners: 1st Place, 2nd Place, and 3rd Place.
Are these not the cutest? This is when being an illustrator is really fun, things like this just make me smile!
I'm going to draw a new pirate image for "Talk Like a Pirate Day" in September. This one has been so hugely popular!
Oh, if you'd like to color my "Pirate Treasure" yourself, click on the black and white version.
Labels: General