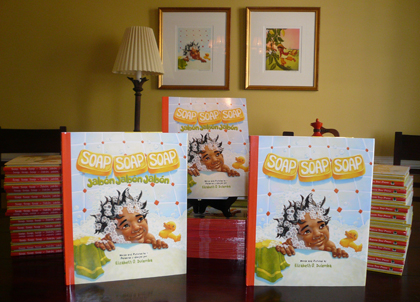 Hi Y'all!
SOAP, SOAP, SOAP ~ JABON, JABON, JABON is coming! These are my contributor copies which arrived the other day - woohoo! ... so pretty. They should be in stores in a few weeks. And there's lots of fun stuff coming up to celebrate. Time to share!

GIVEAWAY!:
I said I'd give away more copies of SOAP and here we go! To win a signed copy, go to MY BLOG and scroll down to the "Book Trailer." Leave a comment and voila!, you'll be registered for the drawing on SOAP's official release date - September 25th!
When I contact the winner I'll ask if they would like the bilingual or all-English version, and what happens at the end of the trailer. So, check it out!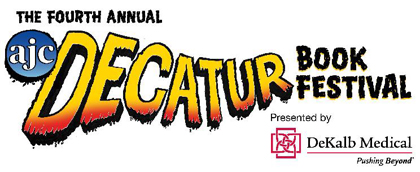 EVENTS:
The Decatur Book Festival is Labor Day weekend and I'll read SOAP, SOAP, SOAP publicly for the first time on the children's stage, Sunday, September 6th at 12:00 noon. I'd love to see you there! (And I'll be giving away some ducky chotchkies.)


Storybook Look will be in town for the Decatur Book Festival! Opening night will be Friday, September 4th from 5:00 to 8:00 pm at the Art Institute of Atlanta Decatur Campus! It should be a schwoozie affair!

If you miss me at one of these, I've got more fun engagements coming up - so mark your calendar!
The Southern Festival of Books, October 10-11th in Nashville, Tennessee
Georgia Literary Festival, October 17th in Rome, Georgia
Savannah Children's Book Festival, November 14th in Savannah, Georgia
John C. Campbell Folk School, December 4-6th, Brasstown, North Carolina - I'll teach "Creating Children's Picture Books" again this year. Click here to request a catalogue or visit the Folk School online.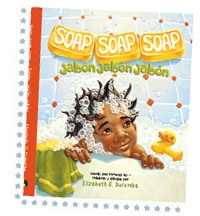 BOOK NEWS
I'm still busy illustrating The Twelve Days of Christmas in Georgia (Christmas 2010) written by my friend Susan Rosson Spain. Sterling Children's Books is doing one of these for each state and I'm honored to be the illustrator for Georgia!
I did lots of fun research visiting the sites in the book. Click here to read about visits to the Habitat for Humanity Global Village in Americus; Springer Mountain; the Georgia Music Hall of Fame; and Tybee Island.
And of course, I'm getting fired up about the release of SOAP!




Coloring Page Tuesdays
If you're subscribed to my weekly Coloring Page Tuesday alerts, this week's image is to the right. In honor of the upcoming Decatur Book Festival - which is sporting a monster theme this year - I give you my reading monster!
If you're not subscribed to my coloring pages maybe you'd like to know... I create a new coloring page every week, FREE for download (from my blog) for parents, teachers, librarians and booksellers to enjoy with their kids. I've been doing this for over two years now, so the collection has grown quite large. CLICK HERE to see all the fun images and maybe sign up to have Coloring Page Tuesdays go straight to your in-box every week!




Stampers!
I have good news for you! I will soon have an exclusive line of stamps at The Greeting Farm. The first three (with more to come) will be available December 1st, but you already know the images - you made them my most popular: Reading Fairy; Library Mouse; and Victorian Poetry!

HONORS:
The Regional Advisors of our local chapter (Southern Breeze - GA, AL, MS), Jo Kittinger, Donna Bowman, and Heather Montgomery, of the Society of Children's Book Authors and Illustrators recently nominated me (for my activities as Illustrator Coordinator) to receive a scholarship to attend the SCBWI National Summer conference in Los Angeles. The even bigger honor and surprise was ... out of all the SCBWI volunteers all over the world I was one of two volunteers selected to win! Click here to read all about my trip to this amazing conference.


VISITS:
Need a speaker for your school, conference or event? I do lots! And now I'm also offering Virtual Visits using Skype! This is becoming a popular (and affordable) way for authors and illustrators to connect with kids. Click my VISITS page for details and to see me in action at a recent school visit in Alabama.
The Southern Independent Booksellers Alliance (SIBA) has made it easier to find authors available to speak in the South through SIBA STARS - check it out!
CLICK HERE to view my current schedule of events.



RESOURCES:
I'm currently registering attendees for our annual SCBWI Southern Breeze Portfolio Workshop on October 3rd at the Decatur Library. Our guest speakers will be Donna German of Sylvan Dell Publishing and Illustrator Mark Braught. Email me for details!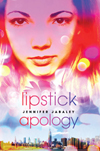 RECOMMENDATIONS:
I've read some fantastic books lately! One of my faves was a new one, LIPSTICK APOLOGY by Jennifer Jabaley. Not ready to hand your daughter Gossip Girl? (Heck, I'm not sure I'm mature enough to read those.) LIPSTICK APOLOGY is just right. Funny (!) and sad and heartfelt, and it takes place mostly in New York. Great read.
I also loved The Dragon of Trelian by Michelle Knudsen. This is pure fantasy done right. (Have I mentioned I'm a sucker for a book with a dragon on the cover?)
I've also read some other great books lately and interviewed the authors (and illustrators) of several of them (including these two). So CLICK HERE to get some behind the scenes conversations with some of my favorite people!



IN MEMORIAM:
I lost my dear friend, Liz Conrad, to cancer last Wednesday. She was an amazingly talented children's book illustrator along with being one of the most positive people I have ever known. Click here to read my tribute to her and leave a note if you like (her family has been following all the kind condolences). Southern Breeze has also started a scholarship fund in her name for a budding illustrator to either attend a regional conference or receive a free portfolio critique (details at my blog). Our world has lost an incredible light...



It's been fun watching the popularity of my coloring pages grow, and especially to see all the interest gearing up for the release of SOAP. I will have a Blog Book Tour, giveaways, and lots of fun things going on in the weeks surrounding its release - so more soon.
Meanwhile, I truly appreciate your continued interest in me and my books and hope you'll invite your friends and family to sign up for my newsletter as well. You can also subscribe to my blog or follow me on:








Of course, you can also unsubscribe, but I sure hope you'll share the love and stick around!


Thanks Y'all! - e




Click a cover to learn more about an individual title...