In Memoriam: Liz Conrad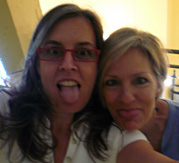 I lost my dear friend, Liz Conrad, to cancer Wednesday morning. It was a shock to everyone. She'd been dealing with the cancer for a while, but everything was going so well - she never even lost her hair. Tests proved the cancer had been destroyed where it was first detected. Unfortunately, two weeks ago the doctors found out that it had moved. They planned an aggressive attack, but the cancer was faster. So very fast.
We spent the most marvelous day together just a few weeks back. We went to Little Five Points, had lunch and meandered through all the shops. She helped me pick out the blue flapper dress that I wore in
Los Angeles
. I'm so glad we had that day. It was the epitome of everything I loved about spending time with Liz.
We met years ago at an
SCBWI
Southern Breeze
conference and ogled over each other's work and our (at the time) mostly pre-published status. From then on, we attended and roomed at conferences together, had dozens of wonderful lunches and when I became Illustrator Coordinator for our region,
Liz was my right arm
(
and creative cohort
). She and
Vicky Alvear Shecter
are/were my posse. After so many lunches we started sharing our work with each other and became an impromptu critique group, based on friendship and extreme mutual respect.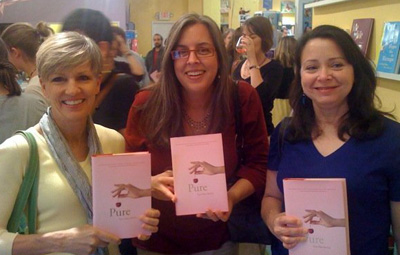 Liz was always the most positive person I have ever known. Her artwork was filled with such joy. You can see some of it
here
and
here
and
here
. I went to her for smiles and clear thinking. Next to my husband, she was one of those rare people whose moral compass points true north. Absolutely and perfectly.
I had hoped we would grow old together. I had visions of us at the family cabin, grey beyond reason, and going over our latest manuscripts together. I've missed her so terribly in these two weeks as she declined, I know I will miss her forever. It's hard to get my head around the fact that she won't be here. The world needs more people like Liz in it, not less. I am heart broken.
I'll post funeral arrangements here as soon as I know them. Meanwhile, do something nice for somebody today and smile even if you don't feel like it. That's what Liz would do.
Update (Monday, August 31st):
Liz's family is following your lovely condolences posted here - so please feel free to reach out to them as well - her husband Rick, and daughters Lauren and Caitlin. (And her dogs Gus and Dillon and Max the cat.) I've spoken with the family and Caitlin's wedding is still planned for September. Liz was cremated and they will have a Celebration of Life ceremony for her towards the end of October - I will post details as I hear.
Update (Wednesday, September 16th, 2009):
I've spoken with Liz's husband, Rick, and the
Celebration of Life Ceremony
for Liz will take place:
Saturday, October 24th from 2:00 pm - 5:00 pm-ish (est)
at the clubhouse in Rivermoore Park (their neighborhood)
in Suwanee, Georgia
4720 Meadow Park Lane, Suwanee, Georgia 30024.
Directions:
Peachtree Industrial Blvd. north from 285 (runs parallel to 85), left at Moore Road (north of 120), left at 3rd left - Meadow Park Drive, striaght to round-about (large Dovecote in the middle) and follow around to Meadow Park Lane.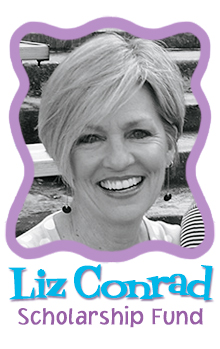 At
Southern Breeze
, (our regional chapter of the
SCBWI
) we've also established a
Liz Conrad Portfolio Critique Scholarship Fund
in her honor. Click her image for details. Or, if you would like to make a donation (thanks so much to those who have donated already), send a check made out to Southern Breeze to:
Southern Breeze
PO Box 26282
Birmingham, AL 35260
The money collected will be used to award two free Portfolio Critiques at each
Southern Breeze
conference annually for budding illustrators in our Georgia, Alabama, Mississippi region. As Liz's daughter, Caitlin, said,
"Mom used the critiques to enhance her art and strengthen her confidence. Later, down the line, she was asked to actually do critiques for others...she was ecstatic! I just know how much it did for her and hope that it could help another aspiring writer/illustrator in the same way..."
We feel this is a way our wonderfully supportive community of children's book writers and illustrators can honor our friend best.
You can also send donations in Liz's honor to the American Cancer Society or the Humane Society.
Along with this blog post, Liz's good friend (and Rick's cousin) from Grand Rapids, Michigan, Julie Metsker, has set up a Memorial Page for Liz at
http://www.memorial2u.com/LizConrad/id/104
.
I'm collecting photos for a moving picture frame to be part of a memorial at our next Southern Breeze conference and to include on this memorial page. So please send your photos to me at elizabeth at dulemba dot com or upload them to the gallery below. (For those of you in the midwest you can also send photos to Julie at jmetsker at iserv dot net.) If your photos are large, please send them through
yousendit.com
.
Again, thanks so much. It's no wonder Liz was surrounded by such kind and generous friends as proven by all your wonderful comments - light attracts light.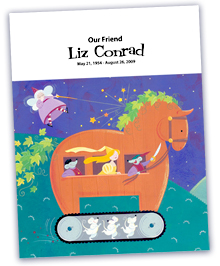 Update - October 25, 2009: Many people expressed interest in having their own copy of the collected comments from this memorial blog post and the Memorial Page. (Two copies were floating around during the Celebration of Life Ceremony.) I've made the collection available through Lulu.com - click the cover.
PHOTO GALLERY:
I've started a photo gallery and you should be able to upload your own photos to it at:
http://gallery.me.com/elizabethdulemba#100050