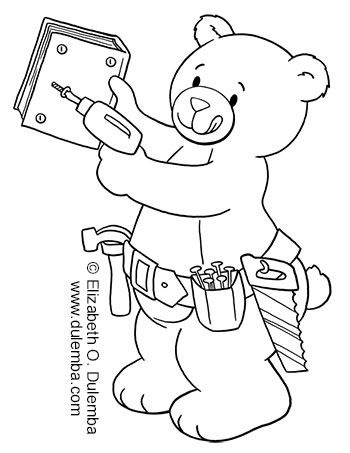 Build A Book!
Teachers, are you talking to your students about writing? Do they wonder what elements go into the creation of a book, both creatively and logistically? This week's image could be a great kick-off to that discussion!
CLICK HERE for more coloring pages! And be sure to share your creations in my gallery so I can put them in my upcoming newsletters! (Cards, kids art, and crafts are welcome!)

Welcome New Subscribers!
I'm thrilled to have new subscribers: Debby from the JMCSS/TMS; Michelle from the Ollúna Óga Pre-School; and Lily from the Instituo Gandhi in Guanajuato, Mexico. Welcome! I'm glad you're here and please spread the word!!
If you have any questions about usage of my images, visit my angel policy page, and please check out my books to see if any might be a good fit for your patrons or children.

National Book Festival!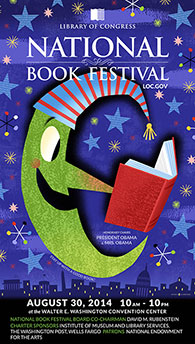 A BIRD ON WATER STREET will be THE featured title for the state of Georgia at the National Book Festival in Washington, D.C. this weekend. I won't be there, but if you go, will you please check it out and send me a photo? elizabeth@dulemba.com. Thanks!

Also... COME SEE ME AT THE DECATUR BOOK FESTIVAL THIS WEEKEND!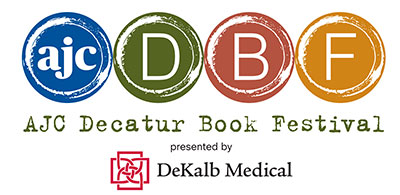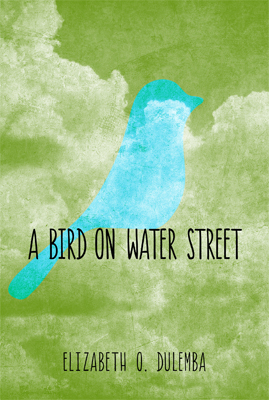 This year at the Decatur Book Festival I'll be speaking on a panel of mid-grade authors with the illustrious Deborah Wiles (REVOLUTION) and Tommy Hays (WHAT I CAME TO TELL YOU). (I'll share A BIRD ON WATER STREET, of course.)
We'll be on the Children's Stage at 3:45 on Sunday. Our panel is called "Southern Drawl" (because we're all Southern writers) and it will be moderated by my friend, Vicky Alvear Shecter!
But that's not all!!
I'll also be moderating a panel myself on Saturday at 11:30am called "All in the Family." I'll interview two creative couples - James and Kimberly Dean of 'Pete the Cat' fame, and Frank Morrison and Connie Schofield-Morrison of I GOT THE RHYTHM.
So please come Saturday or Sunday or both and I look forward to seeing you there!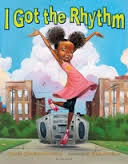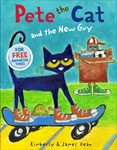 This week's picture book INTERVIEW and GIVEAWAY is:




MADDI'S FRIDGE by Vois Brandt and Vin Vogel
There's a quiet problem in our country...hunger. What's a kid to do when she discovers her best friend's refrigerator is nearly empty, and that she doesn't drink the milk because she is saving it for her little brother? What's that same kid to do when she promised her best friend that she wouldn't tell anybody about it?
MADDI'S FRIDGE written by Lois Brandt and illustrated by Vin Vogel addresses the issue in a light-handed way, through a delightful story of friendship. CLICK HERE to enter the giveaway.
Must live in the US or Canada to win. Review and winning copy provided by the publisher and/or author.
This week's novel GUEST POST and GIVEAWAY is:



IN DEEP by Terra Elan McVoy
Terra Elan McVoy is a book hero in my neighborhood. Not only has she helped run the Decatur Book Festival (next weekend!) and our local children's bookstore, Little Shop of Stories, I've had the great pleasure to watch her writing career take off and blossom into a book-a-year phenomenon. So, I'm thrilled to help promote her latest (6th) novel, IN DEEP. Terra stopped by to talk about it... and you could win a free copy! CLICK HERE to enter the giveaway and read the guest post.
Must live in the US or Canada to win. Review and winning copy provided by the publisher and/or author.
CLICK HERE to check out my Friday Linky List!

Video of the Day...

60 Minutes recently ran a piece that hits pretty close to home. It was a story about New Yorker Magazine cartoon editor Bob Mankoff. He's the decider of which cartoons get run in the magazine. What I found most interesting were the cartoonists who went on camera while Bob went through their submissions. Nope, nope, not a fit, won't work in the magazine, I don't get it.... Ouch. It looked an awful lot like the children's publishing industry. A lot of rejection with just enough wins to keep you in the game. Although as any creator will tell you, you pretty much can't stop creating whether the door is open to you or not. At any rate, it's a very interesting piece... Click the image to go watch on CBS.com.

Card Makers and Colorers!
Each week I like to feature a card or coloring page created by one of YOU using one of my images that has been uploaded to my gallery.
Vicky created this lovely card using my Garden Fairy. I always loved this image, and I love what she's done with it!
CLICK HERE to visit my gallery, leave Vicky a note on her blog, and submit your own artwork! (You'll need to post it to your own blog first.)
If I share your work in my newsletter, grab this badge of honor to add to your blog post or sidebar to let everybody know!
WHAT I'M READING...
I've been doing research for my current work in progress novel, which will end up in Fairhope, Alabama. My family down there insisted I read Fannie Flagg's A REDBIRD CHRISTMAS before I write another word. I'm so glad they did! What a charming, lovely story!! I highly recommend it.

I'm still reading A FALLING STAR by Chantel Acevedo. Chantel is from Cuba, and this is the story about a young daughter of immigrants. She's a beautiful writer, and I'm already getting sucked in.


I'm going to be on a panel at the Decatur Book Festival with Deborah Wiles, so I'm also reading her latest - REVOLUTION. So far, I'm loving it and think it should be required reading in all schools!


WISDOM OF THE WEEK...

"Fiction is a lie, and good fiction is the truth inside the lie."
~ Stephen King


IT'S BEEN A BUSY WEEK ON MY BLOG
CLICK HERE to read about...
New Yorker Cartoons...
My French Parents
Terra Elan McVoy's IN DEEP - Giveaway
Friday Linky List - August 22, 2014
MADDIE'S FRIDGE by Lois Brandt, illustrated by Vin Vogel - Interview and Giveaway
Chuck Leavell
Coloring Page Tuesday - Drawing Mouse
TWITTER! Follow me on twitter too @dulemba.
Chuck Leavell!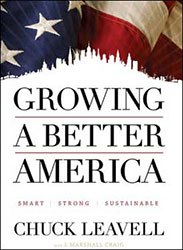 Monday night, Stan and I went to see Chuck Leavell (keyboardist for the Rolling Stones, the Allman Brothers, Eric Clapton, and many more) speak at the Atlanta Botanical Garden.
Wait... did I say speak? I did! Chuck is known for his strong environmentalism and expertise in responsible tree farming and land stewardship, and he's promoting his latest book, GROWING A BETTER AMERICA. Until that email from the Botanical Garden about him speaking, I had no idea!
I started doing some research and discovered that he's a life long Georgia boy and even owns a tree farm in south Georgia. So what do I do? I email him! Why not? Even famous people are people after all. I told him about A BIRD ON WATER STREET and offered to send him a free copy. What better book could there be for a true tree-lover, after all? That was my reasoning at any rate.
Dang if he didn't email me right back and offered a trade for a book of his own! Y'know why? Because he's just a darned nice guy. That's why. Fame can turn people into well... not nice, or it can bring out their humanity and kindness. After his kind email and hearing Chuck talk on Monday, I'm happy to say he is of the latter set.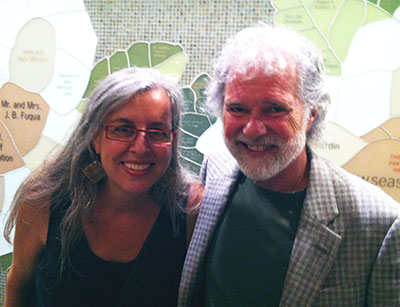 He was passionate about his topic, and of course shared stories of Mick and Keith and Charlie and Ronnie. And happily, he did play a few songs on his keyboard, ending with Georgia. *le sigh* 'Twas perfect.
That man can TEAR UP a keyboard! Seriously, it's why I quit taking lessons oh so long ago. I knew how I wanted to play (like him) and I could tell after ten years of lessons that I didn't have the talent for it. His fingers are the conduit for the music that fills his head - without effort or thought, they sing through those keys. How amazing.
Afterwards, I introduced myself. He's looking forward to reading my book although it hadn't arrived yet. And he asked me which of his books I'd like the most. I asked for his autobiography as I think Stan will enjoy reading it too, and then I purchased a copy of his picture book The Tree Farmer, which he signed.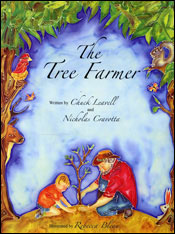 What a pleasure, what a delight, to meet such a great and talented man in the middle of one of the most beautiful gardens in the state. What a perfect evening!
CLICK HERE to see photos of the Botanical Garden.

A BIRD ON WATER STREET TEACHER'S GUIDE!

The Teacher's Guide with Talking Points for A BIRD ON WATER STREET is now available (CLICK HERE), and it's a good one! Meredith Moran of Little Pickle Press, read my book and not only picked up on the subtle points I thought nobody would catch, she brought up points even I didn't catch! Some of the symbolism she featured wowed my socks off. I hope it will do the same for you and that you'll use it in your classrooms. The book is a great tool to launch discussions about environmental responsibility!

MY BOOKS!
Remember, one of the reasons I create my coloring pages is to draw (ha!) attention to my books. Click a cover to check them out!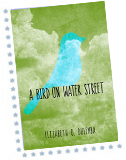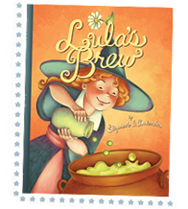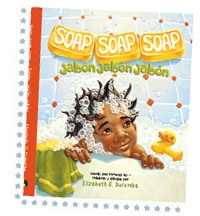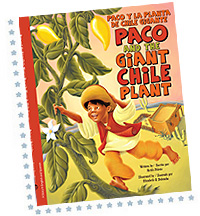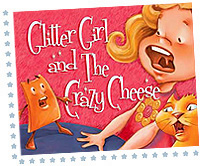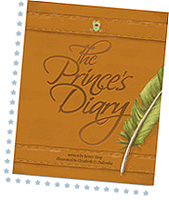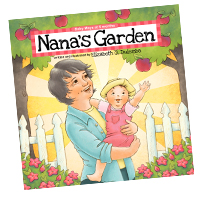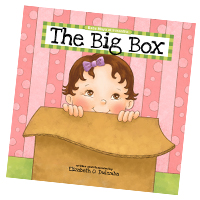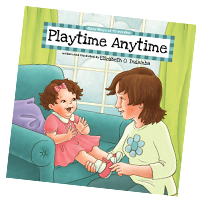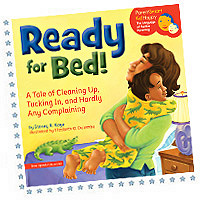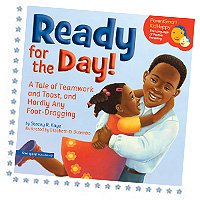 CALL FOR ART!
Have you or your children colored or created something using one of my Coloring Page Tuesday images? If you post it on a blog, you can also post it to my gallery and maybe I'll share your creation next week! (It doesn't have to be a card - I like 2-year-old scribbles too!)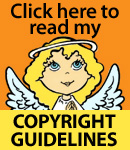 Did You Know...
I create my coloring pages for teachers, librarians, booksellers, and parents to enjoy with their children, but also to let the public know about MY BOOKS. I hope you'll take a moment to check them out and spread the word! Word of mouth is the best advertising I can get, so I'm counting on YOU!
Click a cover to learn more about individual titles and download activities.
Note: All Coloring Page Tuesday images and activity pages are available for personal or non-commercial use. If you would like to purchase rights to an image for commercial use, please email me. If you have questions about usage, visit my Angel Policy page.



All Artwork © Elizabeth O. Dulemba, - Y'all play nice, Okay?