Illustration Friday, Theme: Bloom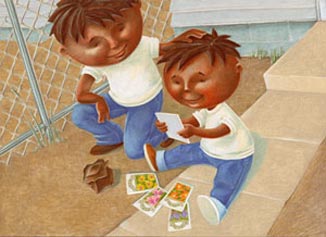 Okay, I'm confused. Did the week with the "Fragile" theme already end and a new week begin? Was I really that busy that I didn't notice the time moving forward? Craziness. Anyhow, this is Gonzago with his seed packets. The blooms are still in their "potential" stage.
It has been an insanely busy week, I must admit. I got a project off to my agent yesterday, and I'll be speaking at the Blue Ridge Writer's Conference tomorrow. "Picture Books and the Journey - PB&J." I'm just arrogant enough to think I have something to share with these budding writers. Actually, I put together an outline of information it took me three years to gather. It may not all sink in, but I wish someone had handed me all this info when I was starting out. I'm pretty excited about it.
Labels: IF