Illustration Friday, Theme: Summer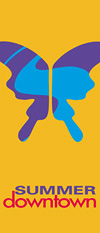 Well, we had a wedding this past weekend, and I'm only just now catching up. So Illustration Friday is now Illustration Tuesday for me.
This is a banner I created for downtown Chattanooga, TN several years ago. I believe they still use them. So if you're ever there and see my flags hanging all over town, let me know!
Labels: IF