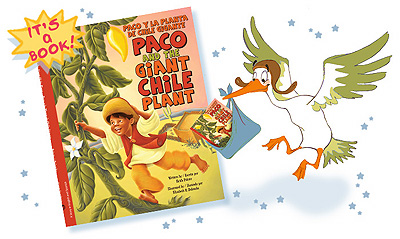 A BOOK IS BORN!!!! WOOHOO!!!
I am thrilled to announce the birth of my latest book, "Paco and the Giant Chile Plant ~ Paco y la planta de chile gigante" (written by Keith Polette, illustrated by Yours Truly,
Raven Tree Press
).
When I first found out about this project, I was excited for many reasons. First, it was a great excuse to finally take Spanish lessons (which I've been doing for over a year now). And second, it's a Jack Tale (which if you know me, you know I have a
thing
for Jack Tales). In fact, Paco takes the familiar "Jack and the Beanstalk" tale and gives it more than a few new twists. Told as a fractured fairy tale, our hero, Jack, is now called Paco, and the story takes place in a beautiful desert setting in the American Southwest. Could I ask for anything better than to introduce Jack to the Latino community in such a fun way??
The story is presented as an English text with embedded Spanish in rojo. A vocabulary page is included to jump start learning in either language, so it's got a great educational angle to it as well.
I am also so proud of my artwork in this book, and feel it is somewhat of an artistic debut for me, like I've finally found my illustrative "voice."
So, without further adieu, please go see my announcement in its original formatting,
CLICK HERE
.
Woohoo!!
Oh, and a nod to Illustration Friday visitors: It is my
theory
that Paco will do very, very well!!
:::::::::::::::::::::::::::::::::::::::::::::::::::::::::::
PACO AND THE GIANT CHILE PLANT ~ PACO Y LA PLANTA DE CHILE GIGANTE
written by Keith Polette, illustrated by Yours Truly (Raven Tree Press, February 2008 - TODAY!!!)
Hardcover ISBN# 978-0-9770906-2-4
Paperback ISBN# 978-0-9794462-3-8
::::::::::::::::::::::::::::::::::::::::::::::::::::::::::::