Highlights Magazine!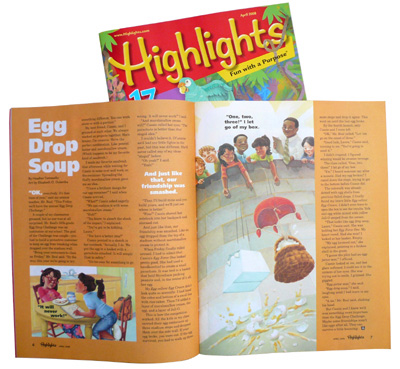 Ta-da! My first art for
Highlights Magazine
! I showed you the
art I did
for their new mag,
High Five
. Well, they both hired me about the same time and I just received my April copy of Highlights with my art which accompanies a very cute story by Heather Tomasello called "Egg Drop Soup." Check your mailboxes, it'll arrive soon!
And more good news - Highlights has hired me to illustrate their December cover! I'm looking forward to that - woohoo!
OMG, so with Paula's comment below, I go looking back through the new edition of Highlights to check for other illustrators I know, and gads - it's full of friends! Check out
Paula Becker's art
on page 38;
Karen Lee's art
on page 26 & 27; and
Connie McLennan's art
on page 5! I am surrounded by greatness. :)
Labels: BigNews