2008 Decatur Book Festival - Friday!
The whirlwind has begun!!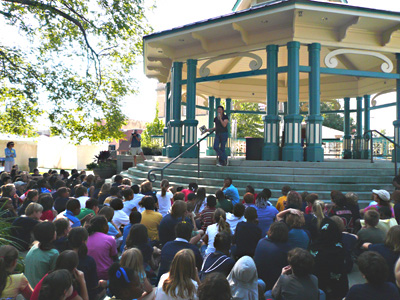 This morning I had the pleasure of introducing
Robert Sabuda
and
Matthew Rienhart
(Paper Engineers extraordinaire), as well as
Sarah Prineas
(author of
The Magic Thief
) to scads of children who walked, trotted, ran from their schools to see them.
Had lunch with Dave, owner of
Little Shop of Stories
, on the square while being serenaded by a nearby Saxaphone player. Ahhhh, the calm before the storm.
Have I ever mentioned that if you eat outside of
The Brick Store Pub
, all of Decatur will walk by you within a matter of an hour?
Well, sure enough,
Daren Wang
joined us (DBF organizer) as did
Adam Rex
(awesome illustrator/author). Had the pleasure of seeing
Chris Raschka
again.
While grabbing my author packet at
Lenz
(they did all the DBF logo, identity, signage - good job guys!) I ran into
Cheryl Klein
(US editor for
Harry Potter
) and
Sara Shepherd
(author of
Pretty Little Liars
). Sarah Prineas caught up and we went back to the Brick for 2nd lunches - just like the Hobbits! (Okay, I only ate once.)
This is what I love about this book festival. The energy is contagious and to hang out with fellow creators who I respect and admire is such fun. I thought I'd get home to do some work at some point, but no way. I'm back to drive Cheryl to her first event at 4:00, so have to zoom. And dinner with
Kerry Madden
(
Gentle's Holler
, etc.) and those listed above, then
Deborah Wiles
(
Each Little Bird that Sings
, etc.) will join us for
Billy Collins
- it just doesn't stop.
I swear, I'm just going to pop a tent at our CBAIS booth and soak it all in, all weekend long. Hope you can make it by! I'll blog as I can...
Read
Decatur Book Festival Kick-Off details here
Read about
Friday here
.
Read about
Saturday here
.
Read about
Sunday here
.
Labels: Events