Stacey and Me at B&N!
It's rare that an author and illustrator live in the same town, let alone communicate and become friends. But that's exactly what happened when Stacey Kaye, creator of the
ParentSmart/KidHappy
series moved to town right after I'd signed the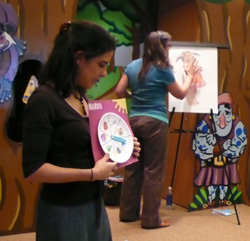 contract to illustrate the books
Ready for Bed!
and
Ready for the Day!
(Two more are on the way for 2009!)
Well, yesterday we spoke and signed books together for the first time at the Barnes & Noble in Buckhead. Stacey read, described the concept behind the books and activities that parents can use to nudge their children through everyday routines without a fuss. Here she shows a "Wheel of Choice" while I draw Maya in a bad mood in the background.
It went well and was a great trial run for our talk at the DeKalb Medical Center this coming Wednesday. I'm looking forward to it!

Learn about proper parenting language and the power of choice in,
Ready for Bed
and
Ready for the Day
- click the covers!
You can also listen to a summary of the concept behind the ParentSmart/KidHappy books at
Mighty Mommy
!
Labels: Events