Endpapers - ahhhhhh
I adore endpapers. It has nothing to do with the fact that I worked at a children's clothing company for many years and had to create fabric prints...nooooo.
Endpapers are a way to segue into a story from a different angle than just telling the story. They are an opportunity to introduce elements or themes the reader should pay special attention to. And they can be flat out beautiful. Unprinted endpapers to me are a missed opportunity and oh so sad.
So I was thrilled to read
Shelftalker
today and find out that there is an online collection of endpapers at
Drawger
. Got an hour to kill? Ahhhhh.
So here are some of the endpapers I've created for my books...
Chile pattern from
Paco and the Giant Chile Plant
:
Bunnies from
Ready for the Day!
and a list of ingredients for a witchy brew from my dummy, Lula's Brew: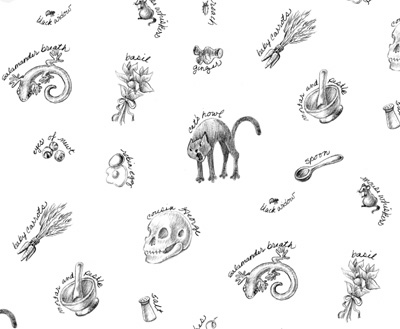 Labels: Method