Monday I had the great good pleasure of meeting author
Melissa Marr
when she spoke at
Little Shop of Stories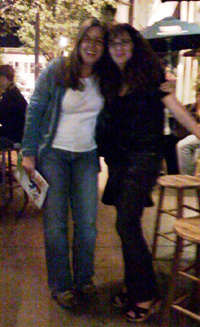 promoting her books:
Wicked Lovely
,
Ink Exchange
, and
Fragile Eternity
(and the Manga adaptation of
Wicked Lovely
). My first (and only so far) video book review was for Wicked Lovely -
remember
?
(Yeah, I'm still trying to figure out the sound thing.)
Anyhow, not only was it wonderful to hear this expert on Irish/Scottish Folklore speak (shows in her books - love 'em!), but even better - we went out for drinks afterwards at the
Brick Store Pub
!
Esther Levine, her publicity escort, hung right in there with Melissa, me and Kevin M. and his wife Tiffany - two more Melissa/folklore fans. We had a rockin' good time - hence the fuzzy pictures. Okay, it was night-time too - cut me some slack! Hope she comes back soon - she's fun!
Melissa has a fantastic interactive site for all her readers - so if you're a fan like me - check out
Melissa-Marr.com
.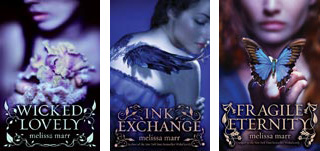 Labels: General