Giveaway!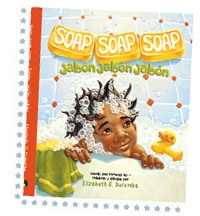 Because of y'all's (posessive for y'all) enthusiasm, we are quickly approaching 1,000 subscribers to
Coloring Page Tuesdays
(weekly alerts) and
e's news
(every few months or so)!
To show my appreciation, the 1,000th subscriber will receive a brand spankin' new copy of my first picture book as both author and illustrator when it comes out this Fall:
SOAP, SOAP, SOAP ~ JABON, JABON, JABON!
The winner will get to choose between the bilingual or all-English version.
(And no worries for all my loyal followers - I'll come up with another giveaway idea as we get closer to the release date.)
So, please keep spreadin' the love and send your friends the link to sign up for
Coloring Page Tuesdays
and
e's news
! And thanks!
Labels: BigNews