A Schmoozy Good Day in Decatur
Sunday was a happenin' day in Decatur, Georgia. At 3:00 Sherri Dillard hosted an
SCBWI
Southern Breeze
Schmooze at
Little Shop of Stories
. A good crowd showed up of budding and established children's book writers and illustrators, and we settled in for a great program.
Shelli Johannes Wells of Market My Words
spoke first about social networking for authors. With her marketing expertise we all learned bunches, including me - thanks Shelli!
Then
Nathaniel Lachenmeyer
spoke about his method of writing picture books. Nathaniel has several books out (I
interviewed him about THE ORIGAMI MASTER
in July), five more under contract and even more about to be, so I was especially interested to hear him speak. His method is quite different from anybody else's and almost completely counter to the reported "rules" so it was an enlightening talk.
Afterwards, Shelli, Sherri, Nathaniel and I grabbed some dinner at
Leon's Full Service
(awesome) and talked more on the subjects. Great time!
We returned to Little Shop at 7:00 to help friends
Jennifer Jabaley
and
Ginger Rue
celebrate the release of their new books LIPSTICK APOLOGY and BRAND NEW EMILY (respectively). Remember I
interviewed Jennifer
a few weeks ago?
They did a back and forth Q&A format which I thought worked especially well and it was wonderful to help share in their debut glow! Woosie. Here we are, Me Ginger, Shelli, and Jennifer: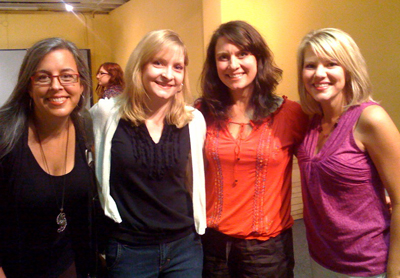 If you get the chance to attend some of these smaller gatherings, it can be a wonderfully intimate, educational and fun thing to do. Most of all, I love how supportive our children's book writing community is. Not only do we have some great talent, but we have some great friends.
Labels: General