How I Work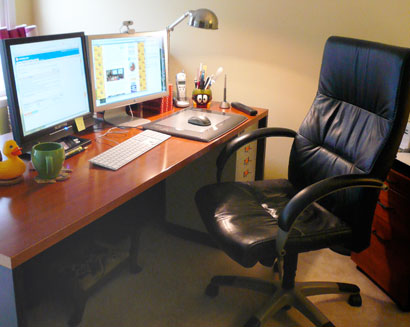 I recently received an email from Cathy F. asking about my current equipment set-up and method. It's been a while since I talked about it, and I recently upgraded, so I thought I'd reply publicly....
For those who have any idea what this means... I currently work on a Mac Pro Tower OSX Version 10.5.8, 2 x 2.26 GHz Quad-Core Intel Xeon Processor, 10 GB 1066 MHz DDR3 Memory (the tower is beyond the end of my desk - somewhat hidden) with a 9x12" Intuos 3 Wacom Tablet and dual monitors (one is an Apple Cinema Display). I often lean my Wacom tablet against the edge of my desk like I would a drawing pad - I like that it keeps my head up rather than leaning over a drawing table. My foot rest was made by my Grandmother - I love it. I use Adobe Photoshop CS4 and while I still have Painter IX, I've been staying in Photoshop lately - playing with all their cool new brushes.
My scanner/printer is behind my chair on top of one of my filing cabinets, and our music server is behind me. Along with my bulletin boards which play backdrops in my
YouTube videos
, and "Winnie" - my favorite teddy-bear growing up (I crocheted him that sweater). Oh, and I used iMovie and Photoshop to create my
book trailer for SOAP, SOAP, SOAP
.
As for method - I still often sketch by hand - with separate elements all wonky over a page. I scan and arrange my compositions in Photoshop. Although more and more I'm drawing directly into my computer (in Photoshop). I work at 100%, 300ppi, usually in RGB and switch to CMYK later (this is a carry over from working with Painter which in my version doesn't support CMYK). I send my art files to my Art Directors either on DVD, via FTP or through YouSendIt.com.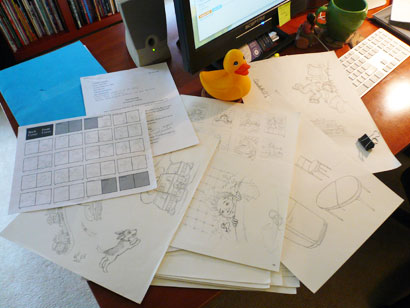 This is an example of the manuscript, thumbnail sketches and those wonky all-over-the place sketches from my latest picture book
Soap, soap, soap
. Once finished, I hold them together with a bulldog clip and keep them in a bureau drawer in my office closet.
As far as my website - I designed it myself in Photoshop and upload everything through Dreamweaver. I lean on that program VERY heavily. I still host through directnic.com although I may be asking too much of them lately.
I send out my weekly "
COLORING PAGE TUESDAY ALERTS
" and my every-now-and-then "
e's news
" using YourMailingListProvider.com.
So, that's it - this is my cave and where I play. I love my space, and my toys and sharing them with you!
Labels: Method