Office Invaders!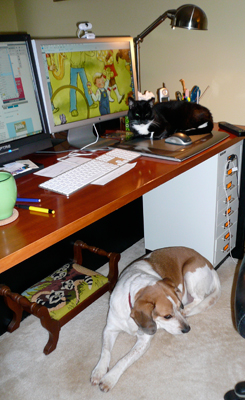 How's a girl supposed to get any work done? Boots has decided my wacom tablet makes a lovely sunning area right underneath my desk lamp. And yes, she sometimes hits the buttons just so and contributes to whatever work I'm trying to do (the final spread for
The 12 Days of Christmas in Georgia
is onscreen). And Bernie has decided I need TWO footrests. Which means I don't always get to scooch in like I need to....
I'm surrounded by fuzzy love.
Labels: General