Illustration Friday, Theme: Blue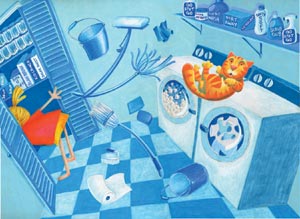 Well this week's theme is "Blue" and I have the perfect thing. This is a scene from my story "The Big Blue Oops!" Lou is trying to find something to clean her world - which has turned completely blue!!
:)
Hey Y'all, thanks for all the nice comments recently. I'm always amazed anybody has time to see my postings - Illustration Friday has grown so big! I really appreciate your thoughts.
Labels: IF