I have the honor of creating a snowflake for
Robert's Snow
this year to help raise money for cancer research. This is the third year illustrators have pitched in to help with this cause, and for good reason. One of
our own
has been too closely affected by this horrible disease. The
story
is worth reading about, and the snowflakes, which are auctioned off, are a
joy to see
. So, needless to say, I'm so happy to be involved.
The snowflakes are all original pieces of art. However I work digitally (the most original art I create is a first run giclee), so what did that mean to me? To the matresses . . . I mean, pull out the paints and see if I can get these muscles to do what I want!
The great thing is, while I was improving with my digital art, I was learning a lot about traditional media. I never claimed to be good at mixing colors (which is part of why I went digital). Who knew that mixing colors onscreen would teach me how to mix colors off? Well, that's what happened, and I was very pleased with the results.
I didn't think to take pictures until I was well into the project, so I jump around a bit, but I'll walk you through my process: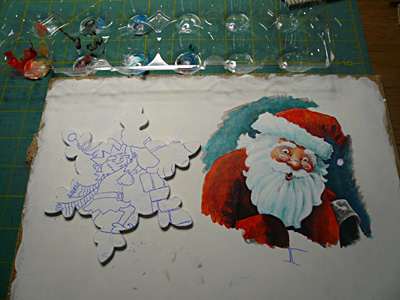 I had to practice to get my hands used to working with a brush rather than a pen-mouse, and experiment with how the acrylics would react. I certainly didn't want to practice on my snowflake! So, I bought a piece of masonite similar to the material from which the snowflake was made and cut it down to small pieces (about 8.5"x11"). I prepared the surface by layering it with gesso.
One of the things I always try to achieve with my digital work is that wonderful rich texture and transparency you get with paint. So, layer after layer of gesso, I used a dry brush to cross hatch when it was close to dry. After four or five layers, I had a nice solid white with a rich texture. I then used Saral paper to transfer my art to the masonite. It worked very well as you can see the back design on the left.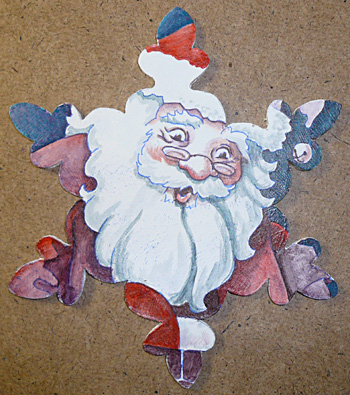 I also wanted to experiment with "scumbling." It's a fancy word for painting the darks first, letting them dry, then layering thin, lighter colors on top. (This is where the transparency comes in.) It's also about the only way to get gentle shading with acrylics - they just dry so darned fast! (They do make solutions to extend the drying time if you want to experiment, but I didn't want to go there.) So I went in with the darks first. Here you can see I've already started to layer in the turquoise sky and vermillion santa suit.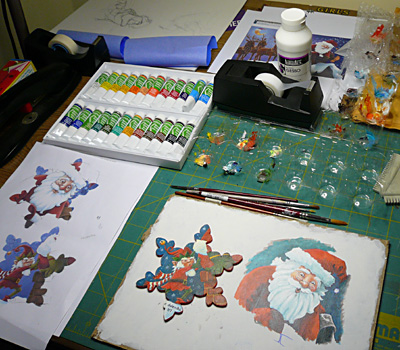 I especially liked the way my workspace came together through this. I bought a set of small tubes of acrylics. Because they dry so quickly, smaller tubes encourage you to squeeze out less and therefore lose less to drying (okay, and after much digging, I couldn't
find
my acrylics!). It's also amazing how little paint you actually need. I saved plastic egg crates and used them as my palettes. (I can't tell you how many expensive palettes I've thrown away that I could never get clean - this worked GREAT.)
By the way, my brushes did not sit above my art while I worked - I've heard horror stories about that kind of thing. I moved them over for the photo so you could see the size brushes I used.
So the main things I learned: there are major advantages to working small; use egg crates for palettes; take your time and let the layers
build
.
I have to say, I really enjoyed this. I may actually try to do more projects in the future just for fun.
Here is my finished snowflake front and back: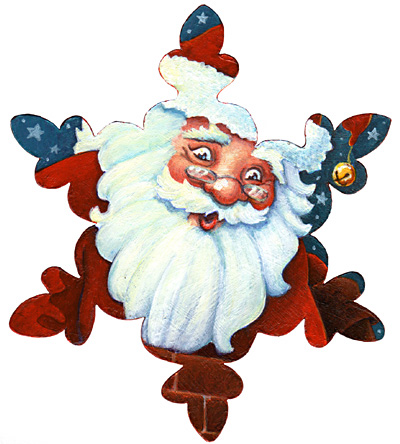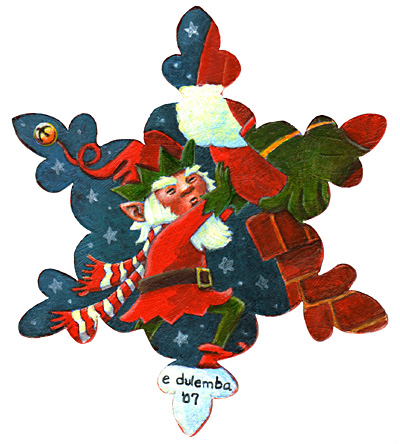 I sure hope whoever purchases my snowflake gets in touch!
Labels: BigNews, Method, Robert's Snow