Coloring Page Tuesday - American Indians
Sign up to receive alerts when a new coloring page is posted and to view more coloring pages - click here!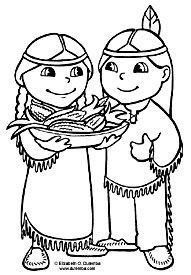 Don't forget the reason we give thanks on Thanksgiving - the American Indians befriended the English settlers and taught them how to survive on this continent. Otherwise, they would have surely perished. It's important to think about the impact that act of kindness had on this nation and its people during our Thanksgiving.
Click the image to open a .jpg to print and color.
If you'd like me to post your creation on my blog, please make sure your image is less than
1 mb
and email it to me at:
coloringpages@dulemba.com
!
For more coloring pages, go
here
.

Learn about my good parenting picture books,
Ready for Bed
and
Ready for the Day
- click the covers!
Labels: Coloring Page Tuesday