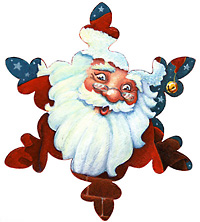 I know I've been blogging about this a lot lately, but it's important. The auction,
Robert's Snow
, to raise money for the Dana Farber Cancer Institute, begins today in three installments. My snowflake is available in the first group -
check it out
. If you don't bid on mine, maybe you'll fall in love with another snowflake. It's all good, because it all goes to raise money for a
very important cause
. (Click a snowflake to get to the auction.)
Click on the Robert's Snow poster to the right to read
interviews with the illustrators
done by bloggers all over the blogosphere or go directly to
my interview at sruble's world
. You can see my snowflake in progress,
here
.
Once again, I want to say how honored I am to participate in such a worthwhile and important cause. Cancer has impacted so many of our lives, let's work to find a cure.
Labels: Events