Fuse #8 and the Qwikpick Adventure Society!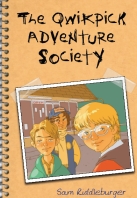 Well, I am the luckiest girl! Elizabeth Bird, New York librarian and famed author of
Fuse #8
, sometimes gives out review copies of books after she's had a chance to read them. I've put my name in the hat several times, but today I
scored
!
Elizabeth is sending me my very own copy of
The Qwikpick Adventure Society
by
Sam Riddgleburger
!
I've seen this book at my local indie and been intrigued, but Sam has especially been on my radar lately. Have you seen his awesome blog post to create
oragami Christmas ornaments advertising Robert's Snow (Blog for a Cure!)
? What a dude!
So, I can't wait to receive the book and I'll have to report back with a review!
Thank you Ms. Bird!
Labels: General