Illustration Friday: Little Things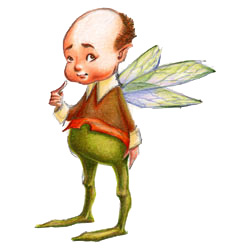 Okay, this is driving me crazy. I have
the most perfect
illustration to share for this week's theme . . . but it hasn't been published yet, so I can't. ARGHHHH!!!
Slower than molasses in winter. Yup. That's how this business moves. Seems to anyhow.
So, I'm sharing my "bald fairy" instead. He's just a little guy, with a little hair, and a little bent for mischief.
Labels: IF